February 1, 2018
Faith on Tap opens dialogue between Catholics and Lutherans
REGIONAL
Story and photos by Stephen Kiltonic
SPRINGFIELD – On Jan. 30, The Student Prince Restaurant served as the venue for a "Faith on Tap" dialogue which featured Springfield Bishop Mitchell T. Rozanski and Bishop James Hazelwood of the New England Synod Evangelical Lutheran Church in America as the primary speakers.
Held in the Heidelberg Room of the popular downtown restaurant and bar, the "Faith on Tap" discussion revolved around the 500th anniversary of the Protestant Reformation, which took place last Oct. 31, as well as ecumenism in the 20th century.
It was standing-room only as more than 80 people, mainly from the Catholic and Lutheran faiths, gathered to hear both bishops give their candid views on the Reformation and the often tumultuous relationship between both faiths over the last five centuries.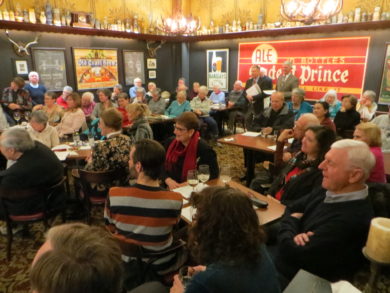 Rev. Nathaniel Anderson of Christ the King Lutheran Church in Wilbraham served as the moderator. He started the evening with an "ice breaker" by reciting a series of eight doctrinal statements. Attendees were asked to identify their origin from either the Catechism of the Catholic Church or the Lutheran Book of Concord. Specific questions were then asked of both bishops, each of whom commented on how both faith communities have improved their relationship over the last 50 years, mentioning the joint Catholic/Lutheran documents "From Conflict to Communion" and the more recent "Declaration On the Way."
"Faith on Tap" is not to be confused with "Theology on Tap," which focuses on issues pertaining only to the Catholic faith. This is the first time Bishop Rozanski and Bishop Hazelwood have participated together in a "Faith on Tap" discussion. However, Bishop Rozanski previously took part in several diocesan events held during the Reformation anniversary year, which included members of the Lutheran clergy. One was a discussion held at the University of Massachusetts  Newman Catholic Center in Amherst and the other featured an interfaith prayer service held at St. Michael's Cathedral in Springfield.
"Faith on Tap is a much more broader concept, coming together as Catholics and Lutherans, particularly in this month of January when we celebrate the Week of Christian Unity," said Bishop Rozanski. "Hopefully, tonight we're going to focus on the healings that have taken place over these past 50 years, particularly since Vatican II."
Bishop Hazelwood enjoyed the "free and open" discussion format and the relaxed environment that the Student Prince offered.
"The sacred has woven its way into many different aspects of life and I think God can show up, sure on a Sunday morning in the Eucharist, but God can also show up on a Tuesday night at The Student Prince in Springfield. People talk about the spirit in many different places," said Bishop Hazelwood.
Commenting on the crowd, Bishop Rozanski said, "I think it's a variety of people who come together who are interested in ecumenical and interfaith relations and those who like to see us be drawn closer together in Christ and our common faith in our Savior." He added, "It's wonderful to be here at the Student Prince this evening and to have such a good crowd as we discuss our faith."
Free appetizers were given out courtesy of The Student Prince.
Attendees also had the opportunity to ask questions at the conclusion of the hour and a half-long discussion. Bishop Hazelwood said his wish was that people left with a better understanding of "the broad spectrum of Christianity in the United States," saying that although there are some things that still divide Lutherans and Catholics, both faiths "have a long history together. We respect one another. What I'm hoping for mostly is that people will sense our commonality more than the divide."
"We do have some more work to do and sadly there are still divisions. But, I think we've come a lot closer and realize that we're not meant to be apart," added Bishop Rozanski.
Two of the attendees, Amy and Daniel Schur, traveled from Westborough, Massachusetts, to attend the event. In their interfaith marriage, Amy is Catholic and Daniel remains Lutheran. While each attends a different church, they welcome the open, ecumenical relationship that exists in their community. 
"I think we have more in common that we have apart. Martin Luther broke off from Roman Catholicism. I don't think he wanted that to happen. I don't think that was the initial intent. He was just trying to make it better and it just split," said Amy. "It's now 500 years and we're just trying to figure out how do we get this back together."
"At one time, it was forbidden (for Lutherans) to go into a Roman Catholic Church and vice versa. I'm so glad that part of our history is gone and that there is more of an understanding between our two religions than this fear," said Daniel. "With Christianity on the decline, we should really be joining forces, not battling each other."
The couple welcomed the casual atmosphere. "It's a very healthy conversation. I think it's better at a venue like this. People are much more relaxed. Some people do let down their guard and are able to ask questions. This was like being on a talk show. Conversation among friends," said Daniel.
"It's like going out to dinner. You just have friendly banter,"said Amy.
For a video version of this story, tune into an upcoming edition of "Real to Reel," the Diocese of Springfield's weekly television newsmagazine that airs Saturday evenings at 7 pm on WWLP22 News.