January 29, 2018
Father Vincent O'Connor celebrates 70th anniversary of ordination
REGIONAL
Story and photos by Kathleen Harrington
SPRINGFIELD – On Saturday, Jan. 27, Father Vincent O'Connor celebrated Mass with family and friends at St. Michael's Cathedral marking his 70th anniversary of ordination.
"I always knew I wanted to be a priest," said Father O'Connor. He recalled the snowy day, Jan. 24, 1948, when he walked into the cathedral with 14 other men for the Rite of Ordination by Springfield Bishop Thomas O'Leary.
On Saturday, he remained in a wheelchair, a low table serving as the altar. At 95 years of age, Father O'Connor is moving slowly, but his mind remains sharp.
Recalling his first assignment to the former St. Mary of the Assumption in Northampton as a parochial vicar, Father O'Connor said he would have been happy to spend his career as a parish priest. However, after just three years, the new bishop of Springfield called on him to study social work. O'Connor headed to Washington, D.C., to pursue a master's degree at Catholic University.
"Whoever serves is to do so as one who is serving by the strength which God supplies," was the first reading from the first book of Peter. The reading recalled the strength of faith to take on his next assignment, establishing the Catholic Charities social services agency.
"It is truly an honor to be here today to celebrate 70 years in the priesthood for Father O'Connor," said Bishop Mitchell T. Rozanski. "He has had a remarkable life as a priest. His work touched thousands of lives."
Among the lives Father O'Connor touched, former students from Our Lady of the Elms College were on hand for the anniversary Mass. During his tenure at the college, Father O'Connor established the bachelor's degree in social work program.
"I was baptized by Father O'Connor 49 years ago," said one former parishioner. Another said, "He renewed our wedding vows at 25, 50, and 60 years."
In addition to those present for the celebration on Saturday, Father O'Connor also touched the lives of children who were living at Brightside in West Springfield, then an orphanage run by the Sisters of Providence. Through his work with the chancery, he helped to find homes and families for the children.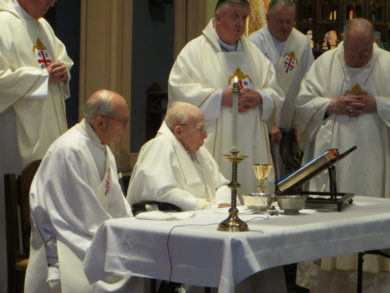 As the Mass ended, family and friends headed to the Marshall Center for a luncheon to honor Father O'Connor. The Mass and celebration were coordinated by his nieces. A slide show captured the life and career of the most senior priest of the diocese.
"An incredible honor and a wonderful day for Father Vince," said Charlie Breguet, who created the slide presentation.
A video version of this story will be featured on "Real to Reel" on Saturday, Feb. 3 at 7 p.m. on WWLP-22NEWS.