January 29, 2018
Annual celebration of Ministry with the Deaf held at Mary Mother of Hope
REGIONAL
Story and photos by Gregg Thompson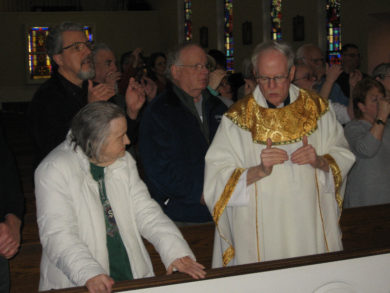 SPRINGFIELD – The fifth annual celebration Mass for St. Francis de Sales, the patron saint for the deaf, was held at Mary Mother of Hope Church in Springfield on Sunday, Jan. 28.  His feast is celebrated every year on or around Jan. 24, the day of his burial in Annecy, France, in 1624.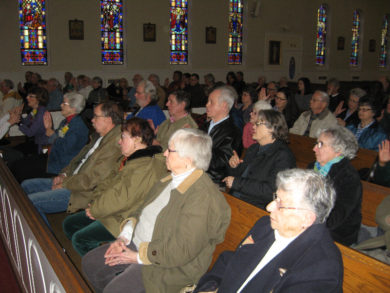 Most of those who attended the Mass were deaf and came from as far away as Connecticut.  Father Matthew Alcombright, pastor of Mary Mother of Hope and director of the Ministry with the Deaf for the Springfield Diocese, presided over the Mass. It included sign language interpreters and some hearing family members and friends of those in attendance.
"We are responsible to preach the Gospel to all people," said Father Alcombright. "Francis showed us that in his relationship with a deaf boy, Martin. 
"We've been hosting the deaf ministry here for about six years," he continued. "We have interpreted services every week, but also the sign language Mass on the third Sunday." 
"St. Francis de Sales is known as a bishop who was a great communicator," said Springfield Bishop Mitchell T. Rozanski, who concelebrated the Mass. "He's such an inspiration to everyone, particularly the deaf community. I hope everyone feels at home in the church, particularly the deaf community, because they bring so many gifts, talents and abilities to our community. To have priests who celebrate the Mass in sign language is a wonderful way of saying 'You are welcome in our church.'"
"I hope that the Mass that we were just involved in helps the word to spread throughout the deaf community," parishioner Patty Peters-O'Neill said through an interpreter. "I'm hoping that through the deaf people who attended, that were inspired by it, that they will talk to other deaf people outside this community and spread the word about Mary Mother of Hope Church.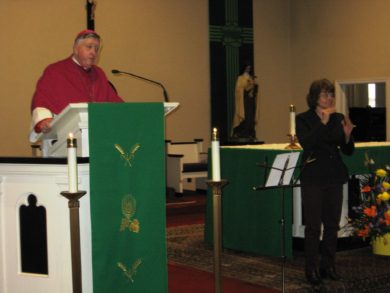 "It's really a wonderful service here on Sunday," said Peters-O'Neill. "So I encourage other deaf people to come join us here on Sundays at 10 o'clock in the morning."
At least 100 people attended the Mass, which was followed by refreshments and socializing in the parish hall.
A video version of this story will be featured in an upcoming edition of the Springfield Diocese's weekly newsmagazine, "Real to Reel," which airs Saturday evenings at 7 on WWLP-22NEWS.