January 28, 2018
Our Lady of the Rosary Parish closes its doors with final Mass
REGIONAL
Story and photos by Stephen Kiltonic
SPRINGFIELD – On a morning filled with many emotions, Our Lady of the Rosary Parish ended its 100-year history in the Liberty Heights section of Springfield with a closing Mass that was attended by many current and former parishioners. Springfield Bishop Mitchell T. Rozanski concelebrated the 9 a.m. Mass with Father Stanley Sokol, the pastor; Father Jacques Coly, the parochial vicar; Father Adrian Benoit; along with Deacons Don Philip and Leo Coughlin.
In his homily, Bishop Rozanski spoke of the importance of the memories that have been formed in the church over the past 100 years citing the many baptisms and weddings celebrated by parishioners, many of whose relatives were Polish immigrants who "toiled in the factories and mills," said Bishop Rozanski. He added they "gave their lives so their families could have a better life here in the United States."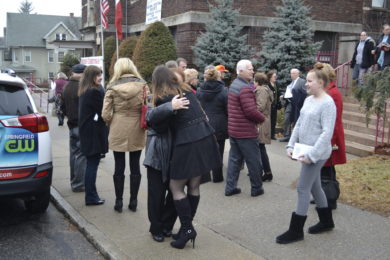 Parishioners first received news of the closing on the weekend of Dec. 30 and 31, when it was announced by Father Sokol. Declining attendance and financial concerns were discussed at an open parish meeting held last November 8.
"We gather today, certainly in sadness, as we mourn the loss of this church. But we also come with a deep sense of our Catholic faith and gratitude to those ancestors from Poland who came over with that faith and with that dream. The memories will never be erased. They will sustain us and they will give us hope," added Bishop Rozanski.
Our Lady of the Rosary, which celebrated its centennial anniversary last October, was founded in 1917 to minister to the growing Polish population which settled in the North End of Springfield.  The church itself was renovated several times over the years, most notably in 1963 after a fire destroyed much of the structure. It was rebuilt and re-opened in 1965. A parish school opened in 1919 before closing in the 1960s.  
The closing, which came as no particular surprise to many parishioners, was nonetheless difficult to accept. Donald Rostowski's grandfather, who lived across the street from the church, helped build the original church building in 1917. Rostowski attended the church during his childhood and the school for three years before his family moved to West Springfield. His extended family, including aunts and uncles, received many of the sacraments here.
"It's been with a heavy heart, the closing," said Rostowski, flipping through the parish's recent anniversary book in which many of his family photos are displayed. "My memories for my whole family are here. It's a very sad day."
Alexander Zielinski's parents were early parishioners at Our Lady of the Rosary. He was also a parishioner for most of his life and received all of his sacraments, as did his siblings.  His children and grandchildren were baptized at the church, as well.
"I saw it (closing) coming slowly. I saw that the parishioners were heading away and I could see the trend where we weren't getting the money from the collections that we needed to keep the parish open. So, that was kind of a death knoll there," said Zielinski who plans to join Christ the King parish, which is closer to his home in Ludlow.
Gladys Rivera, who has been a parishioner since 1996, attended with her husband, children and grandchildren.
"Our faith, our hope, our love keeps us together. It is sad. It is emotional. But together we're getting through it and that's why we all came as a family today," said Rivera who added that the Spanish Mass she attended on Saturday "was beautiful in this community."
She said she'll always treasure the hospitality that was extended to her family.  
"To be welcomed in a Polish church and family was so rewarding and so humbling to us," said Rivera. "We've met so many people throughout our journey here. Being part of the Polish CCD, the Polish community. We've learned Polish. We've shared Spanish. We've shared food. They opened their arms to us and we will be forever grateful."
During the Mass, which was celebrated in Polish and English, many traditional Polish hymns were sung by the congregation and choir.  After communion, Deacon Coughlin took the chalice with the remaining hosts directly to the altar of Immaculate Conception church in Indian Orchard, which Bishop Rozanski designated as the receiving and welcoming parish. As is the custom with church closings, the altar cloth was also removed before Bishop Rozanski gave the final commendation and blessing.
After Mass, parishioners gathered outside the church to share tears, hugs and also to meet with  Bishop Rozanski and Father Sokol.
"I hope it's going to be a kind of continuation. We need to be hopeful and prayerful in remembering this wonderful Polish American heritage and all that was accomplished at this parish community for the last 100 years," commented Father Sokol.