January 22, 2018
Local pro-lifers attend Mass, march in downtown Springfield
REGIONAL
Story and photos by Sharon Roulier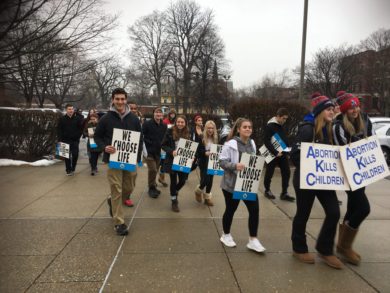 SPRINGFIELD – Pro-life supporters took to the streets of downtown Springfield Jan. 22 in a local effort to mark the 45th anniversary of the Roe v Wade Supreme Court decision legalizing abortion in the United States. 
A 10:30 am Mass celebrated by Father Henry Dorsch, pastor of Our Lady of the Lake Parish in Southwick, kicked off the event attended by more than 80 supporters, including 37 students from Pope Francis High School in Chicopee.
During his homily, Father Dorsch urged those attending to "pray for the dignity of human life, from the moment of conception."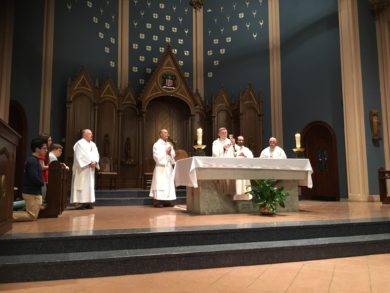 Citing several Scripture passages from the readings of the day, Father Dorsch said, "There's a plan for every person who is not yet born."
"What plan has God for us?" he asked the congregation. "Who knows, for the many whose life was taken before they were born, what contribution they would have made to the human race."
Following the Mass, people gathered up signs and proceeded down State Street to Main Street.
"We ask our heavenly father to be with all those who have the difficult choice and decision to make when an unwanted pregnancy happens," said John Anziano, campus minister at Pope Francis High School, as he addressed the group gathered in prayer on the steps of Springfield's City Hall.
Pope Francis High School senior Chris Carey (front left in photo above) said he and his fellow students were there to show "appreciation for what the Catholic Church is trying to do as well as raising awareness to other young people that it isn't just a cause of the older generation."
And, Carey said the march hit home personally.
"I'm adopted and so the story itself of pro-life–pro-choice, it's very near to my heart," said Carey in an interview with Catholic Communications. "My mother gave me life and I've been grateful for it for all 17 and 5/6 of the years I've been alive."
"I'm very fortunate that I am here today," he said.
Following the march, those in attendance gathered in Huller Hall in the Bishop Marshall Center for a light lunch.