January 21, 2018
Local pilgrims attend March for Life
REGIONAL
Story and photos by Carolee McGrath
SPRINGFIELD – Catholics from all across the Diocese of Springfield boarded buses late Thursday, Jan. 18 and made the all-night trip to Washington, D.C. for the 45th annual March for Life. The peaceful demonstration held on Friday, Jan. 19, commemorates the 1973 U.S. Supreme Court ruling of Roe v. Wade, which legalized abortion on demand across the country.
"This is incredibly important from a secular perspective and a Catholic perspective," said Paul Maurais, a senior at the University of Massachusetts in Amherst. He and ten fellow students who attend the Newman Catholic Center at UMass traveled with the Franklin County contingent.
"It shows legislators that there's a large portion of their constituents against abortion. From a Catholic perspective, we respect life from conception to death," said Maurais, who starts the new semester Monday, Jan. 22, the actual anniversary of Roe v. Wade.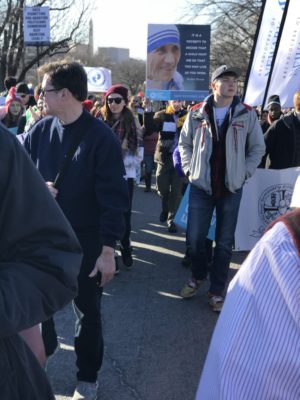 Local pilgrims began their day with Mass at the Basilica of the National Shrine of the Immaculate Conception, then made their way to the National Mall, where President Donald Trump addressed the crowd live from the White House Rose Garden saying, "Every unborn child is a precious gift from God."
Other speakers included House Speaker Paul Ryan (R-Wisconsin); Pam Tebow, mother of pro-life advocate and NFL/MLB star Tim Tebow; and former NFL player Matt Birk and his wife, Adrianna.
"It's important to stand up for people who don't have a voice. You never know what their lives could be like. God created them in the womb. They could be the next president," said Nadine Huertas, the director of the young adult ministry at St. Mary Parish in Westfield. She traveled with 15 students from St. Mary High School.
"We feel that part of the identity of a Catholic school is not just to teach our faith but to live it," said Rob Lepage, a theology teacher at St. Mary's. He has been chaperoning the trip for the last 12 years. He said the journey does require sacrifice, like a lack of sleep. Lepage said he's proud of his students for witnessing.
"It speaks to their character that they are here," he said.
After the rally, groups from all across the country processed up Constitution Avenue to the U.S. Supreme Court and capitol building. This year's theme was "Love Saves Lives: Life Is the Loving, Empowering and Self-Sacrificial Option."
Many women who had previous abortions gave their testimony.
"I was 15 when I had an abortion, out of fear and felt like I had no choice. We're trying to save women from the pain and suffering I went through," said Nicole Peck, from Colchester, Conn. She is now part of the Silent No More Movement. She became infertile after her abortion. Peck adopted two boys and said she is so grateful to their birth mothers who chose life.
"So, God turned things around for me. I used to hate Mother's Day. It was a difficult day," she said.
More than 100,000 people attend the march each year, with huge a representation from teens.
"It's just a cool experience. I believe who are we to decide another person's life?" said Rene Suhocki, a senior at Westfield High School and member of St. Mary Parish.
"Everyone deserves to have the same right to live," she said.
The woman who was "Jane Roe" in the Supreme Court Case, Norma McCorvey, later had a conversion on the issue and became a Catholic. She never had an abortion.
A video version of this story will be featured on an upcoming edition of "Real to Reel," which airs Saturday evenings at 7 on WWLP-22NEWS.
.