January 13, 2018
Springfield bishop to host prayer service for Christian unity
REGIONAL
By Carolee McGrath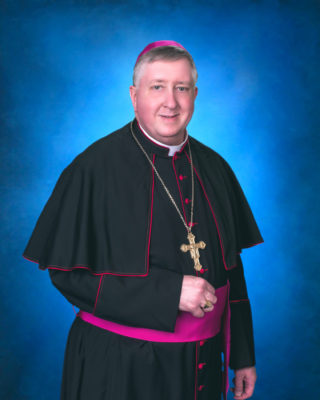 SPRINGFIELD – Springfield Bishop Mitchell T. Rozanski will host Prayers for Christian Unity, Friday, Jan. 19, at 7 p.m. at St. Michael's Cathedral in Springfield. Bishop Rozanski, along with Bishop Sudarshana Devadhar of the New England Annual Conference of the United Methodist Church, and the Massachusetts Council of Churches, invite all Christians from the area to join them.
"In so many ways, we work toward unity. We work together on different projects, particularly for the greater good of the community. So it will be wonderful to celebrate that week of Christian unity, capping it off with that prayer service," said Bishop Rozanski.
The international week of prayer for Christian unity, which runs from Jan. 18-25, has a 100-year history. In the Gospel of John, Jesus prayed, "So that they may all be one, as you, Father, are in me and I in you, that they also may be in us, that the world may believe that you sent me." (John 17:21)
Bishop Rozanski said Christians faiths can support each other, even though they worship differently.
"Particularly with Christian unity we start the conversation with our common faith in Jesus Christ as the one who was born into our world; had his public ministry for three years in the sacred scriptures; who died for us; who rose again; ascended into heaven and who will come back at the end of time. That is the basis of what we can begin our conversation with. We all believe in the universality of our Lord Jesus," he said.
 Bishop Rozanski will also host an ecumenical "Faith on Tap", at the Student Prince restaurant on Fort Street in Springfield, Tuesday, Jan. 30. He will be joined by Lutheran Bishop James Hazelwood, to discuss the 500-year anniversary of the Reformation and improved relations.
"We are stronger together that's why this week of Christian unity is so important," the bishop said. "Although there are things that divide us, we certainly can't put that aside, but we have so many things that can bring us together, that is our faith in Jesus."
For more information on both events, log on to diospringfield.org.