December 18, 2017
OBITUARY: Veronica "Ronnie" (Sheehan) Donohue
TwitterFacebook SPRINGFIELD – A beloved former employee of the Diocese of Springfield, Veronica "Ronnie" (Sheehan) Donohue, died Sunday, Dec. 17. […]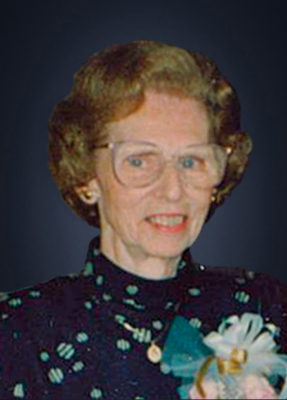 SPRINGFIELD – A beloved former employee of the Diocese of Springfield, Veronica "Ronnie" (Sheehan) Donohue, died Sunday, Dec. 17. The 97-year-old was the administrative assistant for the late Springfield Bishop Joseph F. Maguire.
Born in Holyoke Aug. 21, 1920, she was the daughter of Thomas and Catherine Sheehan. Donohue went to Blessed Sacrament Elementary School in Holyoke. She graduated from the former Sacred Heart High School in Springfield. She later attended the former Springfield Civil Service and Commercial School, earning a degree in business administration. Donohue worked as an office manager for the former Allegheny Ludlum Steel Company on Taylor Street. She worked as a secretary for Catholic Charities at the Diocese of Springfield, before becoming the administrative assistant for Bishop Maguire in 1977.
"Referring to his secretary of many decades, Bishop Maguire would often say of Ronnie, 'she does all things well,'" said Msgr. Christopher D. Connelly, diocesan vicar general.
"Bishop Maguire was well-known as a very fine homilist, a sought-after speaker at Catholic events, and a prodigious letter writer. He was not known as a computer person. Ronnie used her talent at the keyboard to make certain every word was prepared to perfection. She was the most senior diocesan lay employee and always an exemplary woman of the Church," said Msgr. Connelly.
Donohue was a member of Sacred Heart Parish in Springfield.
She was predeceased be her husband James Donohue. She is survived by her four children Margaret A. Ketchum and her husband Kenneth; James Donohue and his wife Nancy; Mary Weaver and her husband Richard; Patricia Tabb and her husband Thomas; eight grandchildren, Meghan Lacus; Ryan Donohue and his wife, Jocelyn; Kerry Derry and her husband, Josh; Daniel Weaver and his wife, Andrea; Katie Eburn and her husband, Bill; Chrissy Weaver; Thomas Tabb and Marybeth Tabb; and her six great-grandchildren, Dylan Lacus; Avery and Liam Donohue; Delaney Derry; and Abby and Quinn Eburn.
Her funeral will be held Friday, Dec. 22, beginning at the St. Pierre-Phaneuf Springfield Chapels in Springfield followed by a Mass of Christian Burial at 9:30 a.m. at Sacred Heart Church, 395 Chestnut Street, Springfield. Her Burial will follow the Mass at Saint Michael Cemetery, 1601 State Street, Springfield, MA 01109.
The family will receive friends Thursday, Dec. 21 from 4 to 6 p.m. at the funeral home. Memorial donations can be made in her memory to the Sisters of St. Joseph, 577 Carew Street, Springfield or to the Sacred Heart Church Renovation Fund, 395 Chestnut Street, Springfield.