December 17, 2017
Lessons and carols prepares St. Michael's parishioners for Christ's birth
REGIONAL
Story and photos by Stephen Kiltonic
SPRINGFIELD – In what has been a Christmas tradition since 2001, the annual Festival of Lessons and Carols was held here, Saturday, Dec. 16 at St. Michael's Cathedral in Springfield. Led by the Cathedral Choir of Boys and Adults under the direction of music director, Lad Pfeifer, the 7:30 p.m. prayer service included a string ensemble, hand bells and the Cathedral Casavant organ.
As is with all lessons and carols performances, the beginning of the service was marked in darkness, which gradually progressed to light as nine Scripture readings and candles were lit and a series of Christmas carols were sung as the story of the Nativity was revealed. Springfield Bishop Mitchell T. Rozanski presided over the service and led the congregation in prayer throughout the two-hour celebration.
Highlights of the service, which was attended by several hundred people, included choir anthems such as "Benedictus" by Sir Edward Elgar; "Nunc Dimitis" by Herbert Howells; and a rarely heard version of "Gloria in Excelsis Deo Et in Terra Pax" by Vivaldi. Some of the more well-known and loved Christmas carols were sung, such as "O Come, O Come Emmanuel"; "Hark! The Herald Angels Sing"; "O Come, All Ye Faithful/Adeste Fideles"; and "The First Nowell." 
"We keep maybe four things that we did before and add five new things," said Pfeifer. "You want to keep it fresh. There are people that come every year so you want to make sure that it is inviting and there is something familiar that they can relate with and also something new to experience. That's always part of the challenge."
The word carol is a medieval word of French and Anglo-Norman origin, believed to mean a dance song or a circle dance accompanied by singing. It is unclear when the first Christmas carol was written, but it is believed that the period from 1350 until 1550 is considered the golden age of English carols which featured a verse and refrain. During the 14th century, carols became a popular religious song form as the theme often revolved around a saint, the Christ child or the Virgin Mary.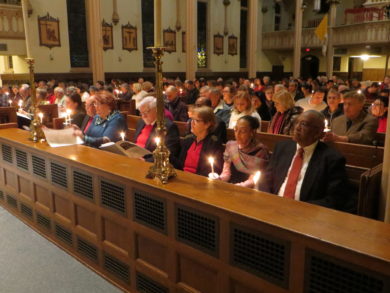 Pfeifer said that Christmas was not a popular holiday in church or the public imagination until the late Middle Ages. "St. Francis of Assisi probably gave it its biggest boost as an individual. He started encouraging Nativity plays outside of the churches before Christmas Mass and they became popular," commented Pfeifer.
By the 16th century, the popularity of carols faltered, and almost disappeared entirely, if not for the revival that happened by the middle of the 18th century. Most of the carols that are known today were written during this period.
Queen Victoria and her husband Prince Albert helped institute a "carol craze" in England during the 19th century when caroling hit its peak. "That's what happened with lessons and carols. In the 1870s, the cathedral choirs sort of got tired of the practice of going around caroling at houses and they decided to have carol prayer services at the cathedrals," said Pfeifer who added that the first lessons and carols on record occurred in 1878. The lessons and carols service at St. Michael's Cathedral, which opened on Christmas day in 1861, was started by Msgr. Richard Sniezyk, then the rector of St. Michael's Cathedral Parish, 16 years ago.
Pfeifer wanted to give attendees of last night's service an overview of the liturgical season. "I'm very careful in the readings I pick from Advent, Epiphany, up to the presentation of the Lord. They're all readings they're going to hear at church. I'm just trying to drive the lessons from those Sundays home," said Pfeifer. "It's not a concert. The music might be grand and glorious but it's a prayer service. The focus is all on preparing for the coming of Christ and that's what I hope to give people — a moment to reflect," added Pfeifer. "It's a way of having a retreat before Christmas."
A video version of this story will be featured on an upcoming edition of "Real to Reel," which airs Saturday evenings at 7 on WWLP-22NEWS.