December 4, 2017
Singing Priests present holiday concert at Barrington Stage in Pittsfield
REGIONAL
Story and photos by John Thornton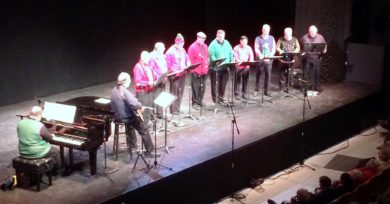 PITTSFIELD – As the sun set over the Berkshires on a chilly Sunday evening, twilight descended on the town of Pittsfield.
However, music could be heard resonating from the Barrington Stage Company and the bright lights of the theater shone on a group of 11 priests from across the Diocese of Springfield. Known simply as The Singing Priests, they performed their fifth annual Christmas concert on Dec. 3 to a nearly sold-out theater. All of the proceeds from the event were to go toward helping youth programs in Berkshire County.
One of the performers was Father C.J. Waitekus, pastor of St. Mary Parish in Longmeadow, who said, "I always tell people that the priests, I think, get more out of it then the audience. We have a really good time. We become quite animated when we get up on stage. It's a lot of fun."
Springfield Bishop Mitchell T. Rozanski attended the performance and shared his reactions with iObserve.
"Well, as we begin this season of Advent, it's just so wonderful to have a concert where we focus on sacred music," said Bishop Rozanski. "We remember the real reason for our Advent and Christmas season and everyone is enjoying the fact that it's a very fun concert, but also a very beautiful concert with sacred music."
The first half of the concert featured Father Mathew Alcombright, pastor of  Mary Mother of Hope Parish in Springfield, on the piano as the other 10 priests sang traditional, religious Christmas songs, including "Silent Night" and "What Child Is This."
After a brief intermission, the second half proved to be quite different as the priests donned "ugly Christmas sweaters," which included lights and ornaments. They then proceeded to sing non-denominational holiday favorites such as "Frosty the Snowman" and "It's Beginning to Look a Lot Like Christmas," with lots of jokes sprinkled in between.
Father Waitekus explained how humor plays a role, not only in this annual performance, but also in his weekly homilies.
"I can't imagine my homilies without humor," he said. "My style is very laid back… I think humor is a huge part of the priesthood for me. It's part of my daily life and very much a part of my homilies."
Five years ago, Father Matthew Alcombright and the late Father Vernon Decoteau resurrected the Singing Priests concerts, which were based on earlier holiday concerts. Father Decoteau, who was the longtime pastor of St. Francis of Assisi Parish in Belchertown, was a talented singer and pianist and had produced several CDs as fundraisers for his parish.
Plans are already in the works for next year's Singing Priests performance.
A video version of this story will be featured on the Dec. 9 edition of "Real to Reel," which airs Saturday evenings at 7 on WWLP-22NEWS.