December 1, 2017
Springfield bishop dedicates altar at new chapel at Elms College
REGIONAL
Staff report
CHICOPEE – Springfield Bishop Mitchell T. Rozanski dedicated the altar at the new St. Joseph Chapel on the campus of Our Lady of the Elms College in Chicopee, Thursday, Nov. 30. Bishop Rozanski was the principal celebrant at the Solemn Dedication of the Altar. The new chapel is located on the third floor of the Berchmans Hall at the heart of campus.
"What a joy it is to gather upon this day to give thanks to God for this sacred space, this space already dedicated for those who come to seek God's presence in prayer, to find here a place of comfort, hope, and the presence of the Lord," the bishop said.
The former chapel on campus, Our Lady's Chapel, built in 1912, was demolished due to safety concerns. The altar stone from the chapel was placed in the new altar during the Mass.
 "Originally part of an altar used in the chapel of the Sisters of Saint Joseph in North Adams, Massachusetts, the altar and stone were gifted to the Elms Academy in the late 1890s and placed in the first chapel located in Stebbins House which stood on Springfield Street," said college chaplain, Father Mark Stelzer.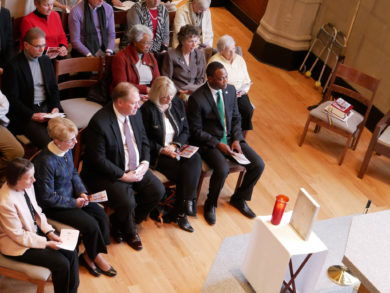 "When a new chapel was built in 1912, the altar stone from the Stebbins House chapel was transferred to the high altar of what became known as Our Lady's Chapel. Prior to the demolition of Our Lady's Chapel in 2015, the altar stone was carefully removed and safeguarded," Father Stelzer said.
The new chapel features large stained-glass windows, a cathedral ceiling and rich wooden paneling. It also includes a separate prayer room to be used by people of all faith, in recognition of the diversity of the Elms College population.
"The location of this chapel in the heart of Berchmans Hall, in the middle of the administrative and academic life of the college, serves as an inspiration for us," said Harry E. Dumay, president of Elms College.
"It's an inspiration to stop in the hustle and bustle of every day for a moment of quit. But it is also a symbol and manifestation of the fact that we pray through our work. In the tradition of the Benedictines, labora est ora: to work is to pray. And so, the dedication of this chapel is by extension a dedication of our work," Dumay said.
Elms College was founded by the Sisters of St. Joseph in 1928.