November 29, 2017
OBITUARY: Sister Mary Ellen OKeefe, SND
REGIONAL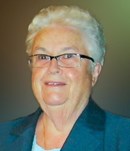 WINDSOR, Conn. – Sister Mary Ellen O'Keefe, a Sister of Notre Dame de Namur (formerly Sister Marguerite St. Charles), of Julie House in Windsor, passed away unexpectedly Tuesday, Nov. 21.
Born in Chicopee, daughter of the late Charles Edmund and Marguerite Cecilia (Shea) O'Keefe, she graduated from the former Holy Name High School in Chicopee; received her bachelor of arts degree from Emmanuel College, a master of arts from Boston College and doctoral degree in English from Boston University.
A dedicated educator, she taught at Assumption School, Westport; St. Justin's, Hartford; St. Rita's, Hamden; St. Rose, Newtown; Central Catholic High School, Norwalk; and East Catholic High School, Manchester, all in Connecticut. She was dean of continuing education at Emmanuel College, Boston and served on the leadership team of the Connecticut Province. She was also archivist and communications coordinator in the Province Center in Windsor, as well as director of the Julie Education Center, Hartford.
She is survived by her sister, Margaret A. Coupal; a niece, Monica Connors, and her husband, Timothy; a nephew, Steven Coupal, and his wife, Kristen; and grandnieces and nephews Kevin and Carly Coupal, and Emelia, Malaina, and Braeden Connors.
The wake will be held at St. Patrick-St. Anthony Church, 285 Church Street, Hartford, Tuesday, Dec. 5, from 1-2 p.m., followed by a prayer service at 2 p.m. A Mass of Christian Burial will follow at 3 p.m. Burial will be Wednesday, Dec. 6,  at10 a.m. at Mount Saint Benedict Cemetery, Bloomfield, Conn.
In lieu of flowers, contributions may be made to the Sisters of Notre Dame de Namur, 425 Poquonock Avenue, Windsor, CT 06095.