November 23, 2017
Westfield State's food pantry addresses continuing need on campus
REGIONAL
Staff report
WESTFIELD – While not commonly recognized, food insecurity among college students and staff has increased in recent years and led to the establishment last year of Common Goods at Westfield State, which provides food and other basic necessities to the campus community.
Many people believe that if someone is attending college, they can afford all of the college expenses that come along with it, said Celeste Donovan, president of the TRiO Student Support Services Program at Westfield State University (WSU), here.
"There is no typical college student anymore and that's not always the typical college experience by any stretch, particularly at public institutions," said Donovan. "That's true in Massachusetts, that's true across the country."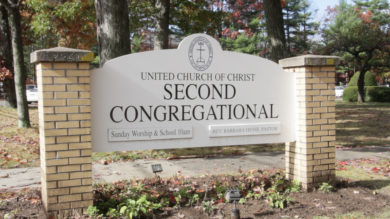 The food pantry is located at the Second Congregational Church, adjacent to the campus, and is the result of the efforts of volunteers from the campus, the community and local churches. Father Warren Savage, Catholic chaplain at WSU, was among the university's interfaith chaplain council members who helped set up the food pantry.
"The Catholic Church in particular has a vested interest in feeding the poor because that is a Gospel mandate – to feed the hungry – because in the hungry people, we see the face of Jesus," said Father Savage. "It's a collaborative between all the different faith traditions in response to a community need that now comes under the umbrella of a community service project."
Among the faith communities assisting with the food pantry are Muslim, Jewish and Christian denominations, all with the goal of helping students and staff who are struggling financially.
"We get emails or personal visits to the interfaith center from people who are looking for food. Staff and families and students, it's a mix of different people and groups, but we always do our best to respond," said Father Savage.
In addition to the university's interfaith council, student support services and the Westfield Foundation, Common Goods is supported by the St. Vincent de Paul Society of St. Mary Parish in Westfield and the Henry Wefing Community Garden.
Special effort is made by the volunteers at Common Goods to respect the privacy and dignity of those seeking food and personal items. Because the food pantry is located on the second floor of the Congregational Church, which has no elevator accommodations can be made to deliver items for persons unable to walk up the stairs, according to the WSU website.
"We are very happy to facilitate the visiting process in any way possible. Other staff and faculty or students can visit the food pantry on behalf of another student or staff who does not want to come themselves," said Donovan. "We will do private visits, private appointments, one-on-one, to have a nice welcoming and safe session for the person to discover the space and discover how easy and simple it is to use it."
As the winter season approaches, volunteers at Common Goods say they expect a greater need for their items.
"Winter times are very difficult for a lot of people, so our food pantry will probably be depleted, which means we are going to ask people on campus to provide more food supplies, non-perishable goods," said Father Savage. "Also, at the interfaith center during my Masses on Sunday, we ask people to donate gift certificates for people to buy turkeys or hams or whatever they could possibly give us to help offset those people who are in need."
Those interested in donating nonperishables, setting up a food drive, or providing a monetary donation to Common Goods, can email commongoods@westfield.ma.edu.
For more information about Common Goods at Westfield State, visit westfield.ma.edu/commongoods.
Contributing to this story were Catholic Communications intern Danielle MacDonald and Rebecca Drake, editor/news director of Catholic Communications.