November 21, 2017
Local youth and adult leaders praise energy, solidarity of NCYC
REGIONAL
By Andre Kopacki
INDIANAPOLIS – The National Catholic Youth Conference (NCYC) that drew an estimated 23,000 teenagers from all across the U.S. to Indianapolis has now concluded. The send-off Mass took place on Saturday, Nov. 19 at 8 p.m., with most participants traveling back to their homes the next day.
"The Mass at the ending was just about the best Mass I was ever at, everyone was so into it and the energy was through the roof," said Rebecca Patel, Belchertown High School Freshman and parishioner at St. Francis of Assisi Parish, Belchertown.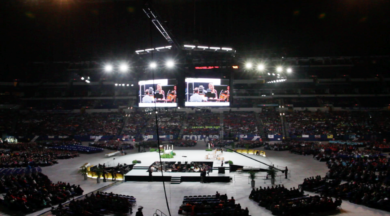 Los Angeles Archbishop Jose H. Gomez presided over the Mass, which took place at Lucas Oil Stadium in Indianapolis. Archbishop Gomez focused his homily on the word "called," the tagline for NCYC this year. He told the youth that every one of them is called to sainthood, each in their own unique way.
"My favorite prayer experience of NCYC was the final Mass, everyone was singing in the end, it was just amazing," said Calvin Terry, another young parishioner from St. Francis of Assisi Parish.
Adult team leaders from the Diocese of Springfield were especially satisfied seeing youth genuinely enjoying Mass and adoration.
"It's lovely to see the excitement of our youth here, and how quiet and reverent everyone was in the adoration, and then to see the joy in everyone's faces once it was all finished," said Gina Czerwinski, director of catechetics and youth formation from the Diocese of Springfield.
"It gives so much hope to see all of these teens with one focus and one desire and having that be Jesus, it's just so inspiring," said Melissa Hurst, youth minister from St. Francis of Assisi Parish, Belchertown.
Asked what makes NCYC such a perfect place for teens with faith, Hurst said there are a few factors.  
"I think that this model is so important because it builds on things we're all interested in: We're interested in having fun, in fellowship, in humor, and in faith, and it goes on a trajectory where there are high times and quiet times," said Hurst.
At NCYC, teens were immersed in a nonstop cycle of events that kept them on their toes. From listening to Catholic speakers of their choice, to walking around an immense indoor thematic village, there was always something to do.
Hurst also spoke about how important solidarity can be for teens who are trying to stay devout.
"NCYC is the one place that gets teens on fire for their faith because they might come from places like school and their friend groups, where it's not okay to be Catholic or believe in God, but over here it is. They're not seen as being abnormal or crazy here, it's a safe space with 25,000 new friends," said Hurst.
A video version of this story will be featured on an upcoming edition of "Real to Reel," which airs Saturday evenings at 7 on WWLP-22NEWS.