November 20, 2017
Springfield law firm delivers 250 turkeys to The Gray House
REGIONAL
Story and photos by Carolee McGrath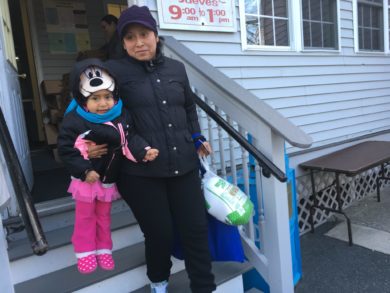 SPRINGFIELD – The law firm of Pellegrini, Seeley, Ryan and Blakesley dropped off 250 turkeys to The Gray House on Sheldon Street, here, Monday, Nov. 20, in time for the Thanksgiving holiday.
The Gray House, a nonprofit in the city's North End, set a goal of giving out 500 turkeys to families in need this year.
"With the help of Pellegrini, Seeley, Ryan and Blakesley, we achieved that goal. The need has been greater this year with our friends from Puerto Rico coming over," said Teresa Liberti, executive director.
"We've seen a greater need in our regular food pantry. Everyone deserves to have a nice Thanksgiving meal," she said.
This year, Springfield is facing an influx of evacuees from Puerto Rico after Hurricane Maria devastated the island in September.
Several families lined up outside The Gray House to pick up the turkeys and other boxed and canned food items to complete their Thanksgiving meal. The Gray House offers food, clothing and educational services to families in need.
"I'm really happy. I'm cooking for my husband and kids and the homeless on the streets. I do this every year," said Gladys Ruiz, who invites homeless people in her Springfield neighborhood to dinner. Ruiz said The Gray House has been a blessing to both her and her husband, who are trying to stretch their budget as they raise four children, ages 4, 7, 8, and 11.
"We've been struggling, but thank God we have a roof over our head. Without Jesus, there is nothing. Jesus is there when I need him the most," said Ruiz.
Several volunteers were on hand to help hand out the turkeys. Attorney Tom Downey, from the firm Pellegrini, Seeley, Ryan and Blakesley, also is a member of Holy Name Parish in Springfield.
"Even as a law firm, we want to be in the community," said Downey, who also volunteers at The Gray House teaching English as a second language. He encourages others to use their God-given gifts to help people around them.
"Ask yourself, 'What am I doing for others?' God will take care of your needs, but the question is to ask yourself is What can I do for others,'" he said.
The Gray House food pantry serves 80 to 120 household per week. For more information about their services, log on to grayhouse.org.