November 20, 2017
OBITUARY: Sister Mary McGrath, SP
REGIONAL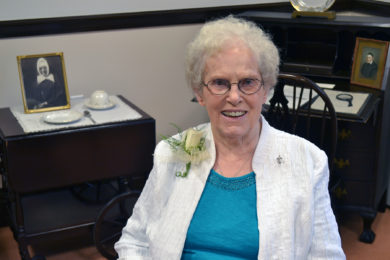 HOLYOKE – Sister of Providence Mary McGrath, formerly known as Sister Laetitia Marie, died on Nov. 17 in the 66th year of her religious life.  
Born Mary Frances McGrath in Worcester, Mass., she was the daughter of the late Thomas and Ellen (Flanagan) McGrath. She entered the Sisters of Providence in 1952. She then studied at Mercy Hospital School of X-ray Technology in Springfield, receiving her diploma in 1957 and began her ministry as an X-ray technician there.
After earning her licensed practical nurse degree in 1967, she became cottage mother and supervisor of the toddlers' department at Our Lady of Providence Children's Center (later known as The Brightside for Families and Children). Her next assignment was to the infirmary at Providence Mother House and then at Mount Saint Vincent Nursing Home in Holyoke from 1972-1976. Simultaneously, she participated part-time in the clinical pastoral education program at Mercy Hospital.
In 1977, she attended Boston's Emmanuel College and received her bachelor's degree in 1980.  She then worked as a pastoral minister to the elderly in Dorchester, Mass., at the Christopher Intergenerational Center and Columbia Point Housing Project. The mayor of Boston appointed her to Boston's Committee on Hunger. 
In 1985, she returned to Springfield to minister at the Open Pantry, Inc., in Springfield, as an outreach advocate for the homeless and in1991 as a case manager. She also was elected to the Sisters of Providence General Council, serving from 1985-1993.
In 1993, Sister McGrath spent a year's sabbatical at St. Mary's College, Los Angeles, and, upon her return, served as a companion for the Western Mass. Elder Care Program in Holyoke and then as coordinator of the food pantry in Orange from 1994-1997. She shifted her focus in 1997 when she moved to North Carolina, where she ministered at the Robeson County Church and Community Center in Lumberton and Red Springs as an emergency assistance worker, and at the Generation Center/Adult Day Care of Southern Pines in the adult literacy and English as a Second Language programs. She also tutored second-graders in reading in Red Springs. 
In 2007, she returned to Massachusetts and continued in ministry by volunteering at Homework House in Holyoke until 2015.
She was a member of Kappa Gamm Pi, National Catholic College Women's Honor Society; the Massachusetts Network Board; the Senior Home Care Services, Boston II, Inc., Board; and the Sisters of Providence Care Centers, Inc., Board.
She is survived by her sisters in community; her sisters, Ann McGrath and Patricia McDonough, both of the Worcester area; as well as a niece and nephews. She is predeceased by her sister, Catherine McGrath.
The wake will be held on Tuesday, Nov. 21, from 3:30-7 p.m. at Providence Place, 5 Gamelin Street, Holyoke; a prayer service will be held at 6 pm. The Liturgy of Christian Burial will be celebrated on Wednesday, Nov. 22, at 10 a.m. in the Providence Place Chapel.
Memorial donations may be made to the Sisters of Providence, 5 Gamelin St., Holyoke, MA 01040.