November 20, 2017
Deacon Pedro Rivera is named new Latino ministries director
REGIONAL
Story and photo by Kathleen Harrington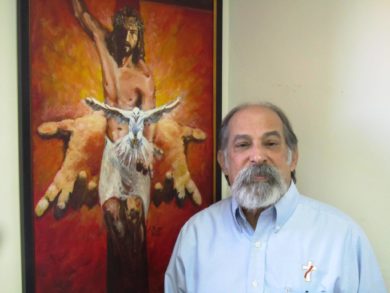 WESTFIELD — "I've been blessed with this opportunity," said Deacon Pedro Rivera of his new role as director of Latino Ministries for the Diocese of Springfield.
Since arriving in Westfield in 1986, he has been involved with the Spanish Apostolate. Ordained as a deacon in 2005, Deacon Rivera serves at St. Mary Parish. Among his responsibilities, he prepares couples for marriage and families for baptism.
"I will continue to be one of the deacons of St. Mary, though I won't be doing all the work I have taken on since I retired two years ago," he said.
It was work that first brought Deacon Rivera to western Massachusetts. While living in Puerto Rico, he worked for Digital Equipment Corporation. Eventually, he turned to education and spent more than 21 years working in public school systems in Springfield, Holyoke and Westfield. Married to Aixa Rivera, the couple will celebrate their 44th wedding anniversary in December. They have four children and six grandchildren.
Accustomed to working long hours, Deacon Rivera has an action plan. "My first priority is to make certain I understand the role of the office," he explained. "I have this vision for a cultural awareness program, not just to help with the language, but also to help pastors, the parochial ministers, and the deacons to understand why we do the things we do."
Deacon Rivera becomes the director of Latino Ministries at a time when the Catholic Church in the United States is undergoing a process called Encuentro. It is an assessment of Hispanic and Latino leadership, participation, ministries, and the needs of the community on parish, diocesan, and national levels. Encuentro will result in a pastoral plan for the church.
"This is an exciting time," said Deacon Rivera. "This Encuentro is going to shape my priorities. I think it's a beautiful opportunity to come in now, knowing what's going on." 
Deacon Rivera plans to spend 25 hours a week in the Office of Latino Ministry, located in the Bishop Joseph F. Maguire Pastoral Center on Elliot Street in Springfield. 
A video version of this story will air on an upcoming edition of "Real to Reel," which airs Saturday evenings at 7 on WWLP TV22.