November 18, 2017
Brightside kicks off annual Angel campaign
REGIONAL
Story and photos by Julie Beaulieu
HOLYOKE –With the Christmas season quickly approaching, dozens gathered on the upper level of the Holyoke Mall to help kick off the annual Brightside Angel campaign on Saturday, Nov. 18.
For more than 30 years, the Brightside Angel Campaign has been a successful fundraiser benefiting Brightside for Families and Children, located at the Providence Behavioral Health Hospital in Holyoke. Founded by the Sisters of Providence in 1881 as an orphanage, Brightside is a nonprofit child welfare and family support organization for at-risk children, adolescents and their families. 
"We primarily offer in-home services to over 190 families throughout Western Mass," said Mark Paglia, director of Brightside.
"We have clinicians that will go to the families' homes, or wherever a family might be in need, that might be a doctor's office, an emergency room, to help lend support, clinical interventions. They help come up with a treatment plan," said Paglia.
Brightside clinicians do neuropsychological, cognitive and psychological assessments. They help each family to establish a community support program, a family stabilization team, in-home therapy services and therapeutic mentoring. Some of the patients may have ADHD (Attention-Deficit/Hyperactivity Disorder), autism, aggression, anxiety or depression, explained Paglia, who said that proceeds raised help close the gap between what the insurance companies are willing to cover.
Kristen Muszynski, the annual giving officer for Mercy Medical Center, said she has been doing this event, in partnership with the Holyoke Mall, for a few years, to help spread awareness about the campaign.
"The Brightside Angel changes every year, so this year we took an angel from a stained-glass window that used to be in one of the chapels (at the former Brightside orphanage) and made it into our angel for 2017," said Muszynski.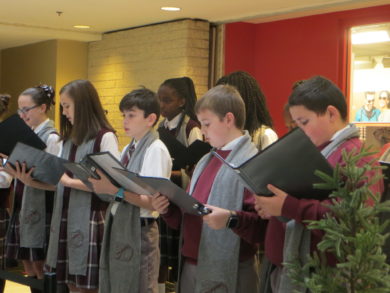 For entertainment, the children's choir from St. Stanislaus School in Chicopee performed Christmas carols under the direction of Margaret Bielin.
"This is the first time we have done this event," said Bielin.
"We practiced a few songs during our weekly choir rehearsals. Since we are a Catholic school and this is a Catholic charity event, I decided that we would have a mixture of songs, some secular and some religious. I also wanted to do a song about angels, since this is the Brightside Angels, so that's why I chose 'Hark, The Herald Angels Sing,'" Bielin continued.
Lauren Beaudia, an eighth-grader at St. Stanislaus School, performed with the choir.
"This is my third year (in the choir), and I've always had an interest in music, dancing and public speaking. I loved doing today's event. I thought it was a wonderful experience for a wonderful charity. One of my favorite songs is 'Hark, The Herald Angels Sing,'" said Beaudia.
In addition to the choir's performance, the event offered coloring activities, face painting and story time for children.
Brightside is offering several items this year, including the traditional paper Angel, porcelain ornaments, magnets, Kringle Candles and handmade bracelets. These items can be purchased on weekends at the Holyoke Mall, Mercy Medical Center Gift Shop, the lobby at Providence Behavioral Health Hospital, Pat Parker and Sons Florist in Springfield, Raymour & Flanigan furniture stores and online at Brightsideangels.com.