November 13, 2017
OBITUARY: Sister Louise Thomas McIsaac, SSJ
REGIONAL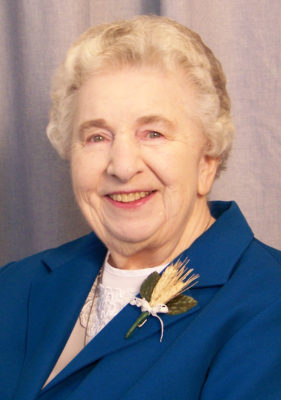 NATICK, Mass. – Sister of St. Joseph Louise Thomas McIsaac (Rita), 92, a member of the Sisters of St. Joseph of Springfield, died in Natick on Nov. 12.
A native of Worcester, Mass., she was the daughter of George and Ethel (Hurley) McIsaac.
She entered the Sisters of St. Joseph of Springfield from St. Peter Parish, Worcester, in 1947. She graduated from South High School, Worcester. She earned a bachelor of arts degree from the College of Our Lady of the Elms, Chicopee, and a master of education degree from Heed University, Florida.
She ministered in the Diocese of Springfield at the former Annunciation School, Northampton; the former St. Mary School, Pittsfield; and for most of her teaching career in Holyoke, at Sacred Heart School, St. Jerome School, Blessed Sacrament School as principal, and at Holyoke Catholic High School, where she was director of performing arts and coordinator of community service. She also served in the Diocesan Schools Office of Communication.
She became a member of St. Joseph Retirement Community at Mont Marie in 2008, and more recently resided at Bethany Health Care Center in Framingham.
In addition to her sisters in community, she is survived by her sister, Margaret Konkol, and several loving nieces and nephews. She was preceded in death by her parents and her siblings, two brothers and three sisters.
All services for Sister Louise Thomas will take place in St. Joseph Chapel at Mont Marie on      Wednesday, Nov. 15. She will be waked from 9:30 a.m. to 10:30 a.m., with a prayer service at 10 a.m. The Liturgy of Christian Burial will follow at 11 a.m. Burial will be in Mont Marie Cemetery.
Memorial contributions may be made to the Sisters of St. Joseph, 577 Carew St., Springfield, MA 01104.