November 11, 2017
Patriotic rosary held in honor of veterans
REGIONAL
Story and photos by Carolee McGrath
SOUTH HADLEY – On a frigid, autumn evening, people ventured out to pray for veterans at St. Theresa of Lisieux Parish in South Hadley. A patriotic candlelight rosary was held at 7 p.m. Friday, Nov. 10, to coincide with the Veterans Day holiday. The group prayed the Luminous Mysteries, with veterans and their spouses leading each decade and reading reflections by past presidents.
"It's something unless you have served, you can't truly appreciate what the sacrifice represents. When you see individuals now thanking veterans, it's a wonderful thing. They gave a lot, especially our war veterans because they do not come back the same," said John Murray, who was a staff sergeant in the U.S. Air Force from 1981 to 1990. Murray and his wife, Sandy, have a son and daughter-in-law in the Air Force. Murray is in the diaconate program for the Diocese of Springfield and would like to make serving veterans part of his ministry.
"The best thing we can do is pray and care for them," Murray added.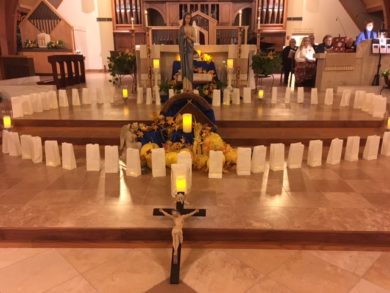 The congregation sang patriotic songs following the reflections. Luminaries were placed on the altar surrounding a statue of the Blessed Mother and a crucifix.
"There are so many veterans who have hidden wounds. I've been there and struggled. There's a lot to pray for," said Jim Grandchamp, a Marine who served in Desert Storm.
 This is the third patriotic rosary organized by the Spiritual Life Team of the parish. Prayers were also offered for the conversion of political leaders and the country, and well as the intentions of Pope Francis.
"I have an army of my own in my own family. I have three brothers who served, one in the Marine Corps, one in the Army, and one in the Air Force and a large number of nieces and nephews. They have always practiced service before self," said Father Michael Twohig, the pastor of St. Theresa of Lisieux.
"Military families always have that sense of service before self. They have a tremendous commitment to God, community and country and general principles of human decency," Father Twohig added.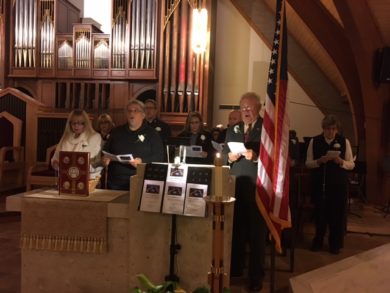 At the end of the service, people lit candles and sang "God Bless America."
"My son just served 30 years as a Marine. I don't think kids know enough about the military and the freedom they're giving them," said Bea Ouimette, who served in the U. S. Navy Reserve during the Kennedy Administration. The mother and grandmother led the fifth decade of the rosary.
"Offer up your daily prayers for veterans, especially pray for peace through the Immaculate Heart of Mary. We will obtain peace through the rosary," she said.
Refreshments were served following the prayer service.