November 10, 2017
Clergy training program helps rural vets access care, resources
REGIONAL
Story and photos by Steve Kiltonic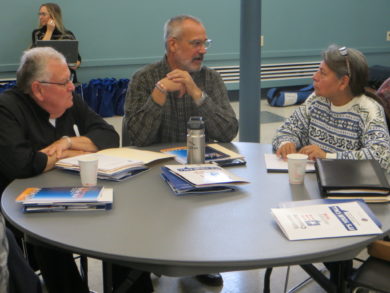 GREENFIELD – On Nov. 8, a one-day community clergy training program, sponsored by the National Veterans Administration Chaplain Center and the Veterans Health Administration Office of Rural Health, was held at the Father James Casey Hall in the basement of Greenfield's Holy Trinity Church.
The 25 attendees, which included clergy from various religious denominations as well as veterans and lay people, learned about promoting the health and well-being of the rural veteran population; how to strengthen the community healthcare infrastructure where veterans reside; and how to promote practices in rural health care delivery and the provision of benefits and services to rural veterans.  
 
Some of the topics discussed include military culture and the wounds of war including post-traumatic stress disorder, military sexual trauma and traumatic brain injury (TBI); suicide prevention; the role of clergy while assisting with veteran care; and building community partnerships. Various videos were also shown to facilitate discussion in small groups.
"Veterans, when they get in crisis, tend to gravitate toward clergy," said Slavko Miling, the relationship manager in New England for the Veterans Experience Office. "So, clergy are very important in local communities because the families will go toward clergy to share their difficulties that they may be having helping their loved one."
Milling believes it is important for the community to reach out and engage veterans as quickly as possible. He said 70 percent of the veteran population as a whole does not access VA services. "It is critical that clergy understand the veteran, understand their needs and understand where to get them help at a moment's notice," said Milling.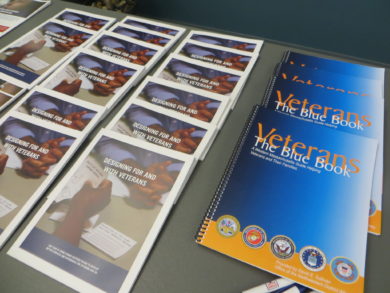 A national program across much of the United States, this was the first time the clergy training was offered in western Massachusetts. It's also offered in all six New England states. Some of those attending from the Springfield Diocese included Father Timothy Campoli, pastor of Holy Trinity parish, along with Deacons Paul DeCarlo and Channing Bete.
"People I know and people that have come home (from war) you can see the difference in the time they left and the time they come home and that can't be ignored," said Deacon DeCarlo. "We as clergy, or as just lay people, need to be well informed so that we can help them (veterans) in whatever it takes to reintegrate them into an active community." 
David Whiteley, the lead chaplain at the VA Central Western Massachusetts Healthcare System in Leeds, initially helped to get the program to come to western Massachusetts. He said most of the attention currently being focused by the Veterans Administration in this region include the opioid epidemic and suicide prevention or "SAVE" training.  Statistics reveal that of the 20 veterans who commit suicide today, only six ever see a VA facility. Most of the suicides that take place are by Vietnam veterans.
Ben Kaler, a field consultant for the Veterans Experience Office in New England, was an infantry officer with the Marines from 2000-2006 during the Iraq War. He was wounded in action and suffered TBI as the result of an IED explosion, undergoing eight surgeries during his rehabilitation. Kaler shared his military experience with the group. 
"If they start hearing different veteran's stories, then they understand we're all just people. We served our country for whatever reason – whether it's patriotism, tradition or to get the GI bill and go to school. It doesn't matter."
The clergy training this week included stops at the Athol Congregational Church and Temple Anshe Amunin in Pittsfield. "The more diverse we are the better, because we're reaching a larger population. No exclusion," said Kaler.
A video version of this story will be featured in an upcoming edition of  Catholic Communications' magazine program "Real to Reel," which airs Saturdays at 7 p.m. on WWLP-22 NEWS.