November 7, 2017
Mercy Medical Center adds advanced radiotherapy system for cancer care
REGIONAL
Staff report
SPRINGFIELD – Mercy Medical Center's Sister Caritas Cancer Center has expanded its Stereotactic Radiosurgery options to include a high-precision radiation treatment system. The TrueBeam® Radiotherapy System is an innovative system that enables a radically different approach to treating cancer with image-guided radiotherapy.
The TrueBeam system, from Varian Medical Systems, delivers powerful cancer treatments with pinpoint accuracy and precision. It uniquely integrates new imaging and motion management technologies within a sophisticated new architecture that makes it possible to deliver treatments more quickly, opening the door to new possibilities for the treatment of lung, breast, prostate, head and neck, as well as other cancers that are treatable with radiotherapy.   
"TrueBeam enables us to treat even the most challenging cases with unprecedented speed and precision," said Dr. Michelle Olsheski, medical director of radiation oncology for Sister Caritas Cancer Center. "With a broad spectrum of new capabilities, this new technology makes it possible for us to offer faster, more targeted treatments to tumors, particularly for those requiring stereotactic body radiation therapy (SBRT) and stereotactic radiosurgery (SRS) such as brain metastases."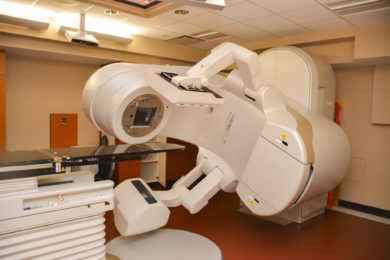 Faster treatments
With dose delivery rates that are 40 to 140 percent higher than previously available technology, the TrueBeam system can complete a treatment commensurately faster. This makes it possible to offer greater patient comfort by shortening treatments, and to improve precision by leaving less time for tumor motion during dose delivery.
Enhanced precision
The precision of the TrueBeam system is measured in increments of less than a millimeter. This accuracy is made possible by the system's architecture, which synchronizes imaging, patient positioning, beam shaping and dose delivery, performing accuracy checks every ten milliseconds throughout the entire treatment. Critical data points are measured continually as a treatment progresses, ensuring that a focal point of treatment is maintained.
Faster imaging at lower doses
TrueBeam imaging technology can produce the three-dimensional images used to fine-tune tumor targeting in 60 percent less time. Additional functionality makes it possible to create images using 25 percent less X-ray dose.
"Imaging is an essential part of modern-day, targeted radiotherapy," explained Olsheski. "This machine allows us to choose an imaging mode that minimizes the amount of X-rays needed to generate an image, providing an additional patient benefit."
TrueBeam can be used for radiotherapy treatments including conventional radiation therapy, image-guided radiotherapy (IGRT), radiosurgery (SBRT and SRS), intensity-modulated radiotherapy (IMRT), and RapidArc® radiotherapy (VMAT). 
"The TrueBeam system not only allows us to provide our patients with the optimal treatment for every type of cancer, we are also able to offer a wider spectrum of advanced radiotherapy treatment options to many more patients," said Olsheski. "At the Sister Caritas Cancer Center, our patients are at the center of everything we do and we confident that use of this new technology will ease the cancer journey for many individuals in our local community."