November 5, 2017
Annual Purple Mass held to support those affected by Alzheimer's disease
REGIONAL
Story and photos by Gregg Thompson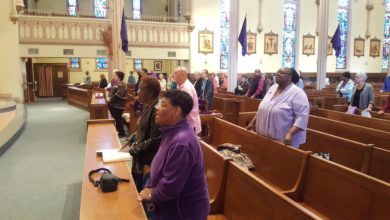 SPRINGFIELD – Wearing purple clothing and ribbons, families and caregivers gathered for the third annual Purple Mass, Saturday, Nov. 4, at 4 p.m. at St. Michael's Cathedral to provide prayerful support to those affected by Alzheimer's disease and other forms of dementia. Organizers hope to bring about more awareness of the devastating diseases.
"At this Mass, we pray for a cure and prevention for Alzheimer's disease, all diseases that affect the precious gift of memory," said Msgr. Christopher Connelly, the rector of St. Michael's Cathedral and diocesan vicar general.
"We pray for caregivers, who guide those whose memory have failed them," he added.
Alzheimer's is a progressive disease in which brain cell connections and the cells themselves degenerate and die. This destroys memory and other important mental functions. There are more than 3 million new Alzheimer's cases each year. The disease is ultimately fatal.
The Purple Mass was sponsored by the Knights of St. Peter Claver and Ladies Auxiliary. 
"The purpose of the Purple Mass is to come together as one family, to pray for one another; and that prayer does give us hope and the peace we need," said Grand Lady Sharon Harris. 
"My mom had dementia. I lost her two years ago. It is not an easy disease to watch your mom go through. We just need all the prayer and the love and the patience to give and to receive during this time," she said.
Joy Danita Allen, also a member of the ladies' auxiliary of the Knights of St. Peter Claver, lost her mother the same way.
"My mother passed away in July 2015, from the disease," Allen said.  "I fully believe in praying to God and holding on to his promises for a cure and prevention."
The Knights of St. Peter Claver and Ladies Auxiliary, a Catholic lay organization, was established in the Diocese of Springfield in 1988. Members of the ladies auxiliary not only commit to prayer, but they also help in the community and parishes. They choose a ministry each year and chose the Purple Mass for 2017 to minister to those affected by Alzheimer's.
A reception was held following Mass in the Bishop Marshall Center. 
For information on Alzheimer's support groups, log on to alzmass.org/Support Groups/.
For a video version of this story, tune into an upcoming edition of "Real to Reel," the Diocese of Springfield's weekly television newsmagazine that airs Saturday evenings at 7 p.m. on WWLP-22 NEWS.