November 3, 2017
Local servicemen and women honored at school's annual Veterans Mass  
REGIONAL
Story and photos by Sharon Roulier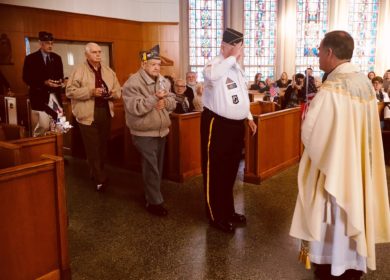 HOLYOKE – Students, faculty and staff gathered Nov. 3 in Blessed Sacrament Church, here, for the annual Blessed Sacrament School Veterans Mass celebrating the men and women who have served in the U.S. military.
The Mass, always celebrated near the Veterans Day holiday, presents an opportunity for the students to honor veterans while receiving a lesson in history. Local veterans attend the Mass, and this year every war since World War II was represented by at least one person who served.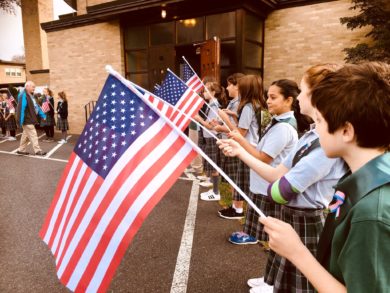 Father Robert Gentile, pastor of Blessed Sacrament, celebrated the Mass, assisted by Deacon Wendell Pennell.
During his homily, Father Gentile reminded the students, who ranged from preschool through eighth grade, that those who served in the armed forces "put their lives in harm's way for us." 
"We come together to pray and to thank the veterans for their service," Father Gentile told the students.
Following the liturgy, each grade, from preschool through eighth grade, sang a patriotic or military song.
"We try to instill in the children how important it is to know what these men and women have done for us and for the freedoms that they're experiencing today and what the men and women are still continuing to do for them," said Anne O'Connor, principal of Blessed Sacrament School.
Veterans of each branch of the military were asked to stand in their pew while the middle school students sang the song corresponding to their branch.
Gracie Chesmore, a fifth-grader at Blessed Sacrament, said one of her grandfathers served in the Navy and the other had served in the Army. And she currently has two cousins who served in the military.
"I think it's important to remember and honor all those who have served, so it's very special because it's important to remember that freedom isn't free and they fought for us," she said. "I was taught as a young girl that if you see a veteran you should say, 'Thank you for your service.' And I just think it's important and you should say it not just today but every day."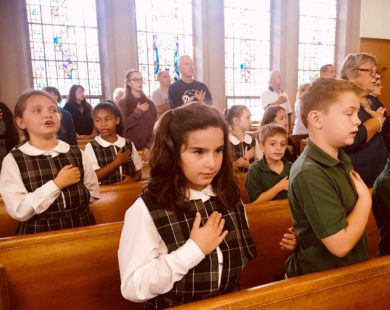 In an effort to continue to remember those in the military, Blessed Sacrament students, in conjunction with the parish's religious education classes, are currently making Christmas cards to be sent to veterans across the country this holiday season.
A video version of this story will be featured on an upcoming edition of "Real to Reel," which airs Saturday evenings at 7 on WWLP-22NEWS.