October 29, 2017
Special blessing of new chapel at All Saints Parish in Ware
REGIONAL
By Carolee McGrath
WARE – Families gathered at the 10 a.m. Mass at All Saints Parish in Ware, giving thanks for their new chapel, Sunday, Oct. 29.
Springfield Bishop Mitchell T. Rozanski, who was principal celebrant, blessed the new chapel and the statues of saints that adorn the high altar in the main church building on North Street.
"We removed everything from the storage room. We had Christmas trees in there. And now we can sit between 29 and 38 people in the chapel for daily Mass," said Father Piotr Calik, administrator of All Saints Parish. Father Calik explained the idea for the new chapel, located in the back of the main church building, came from his predecessor, Father Edward Fitzgerald.
"Father Fitzgerald was always hoping to have the chapel in one of the side rooms. He always wanted to do that for daily Mass to keep all of the people together because the church is huge. When you have daily Mass, and have 18 to 20 people, they sit in all corners of the church," explained Father Calik.
In addition to daily Mass, the chapel will be used for the parish's prayer groups and for eucharistic adoration, held on the first Friday of the month.
Bishop Rozanski also blessed the statues of the saints on the altar in the main church, including St. Michael, St. John Paul II, St Anthony of Padua, St. Nicholas, St. Francis of Assisi and St. Patrick. Father Calik planned the blessing to coincide with the solemnity of All Saints, a holy day to be observed Wednesday, Nov. 1.
Father Calik said the saints lead Catholics to Christ.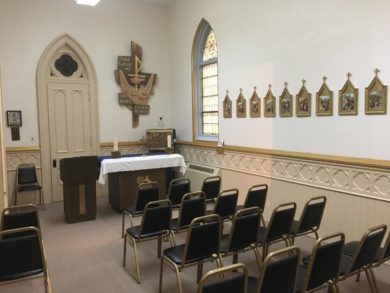 "Following the examples of their lives, we can learn something on how we can live our lives. This is a lesson for us. They did something special and we should learn from them and follow their example," he said.
He said St. John Paul II, in particular, is most familiar to many people.
"He's the current saint people can relate to because people can remember him as pope. People can choose to whom to pray and reach out to Jesus through praying to the saints," said Father Calik, adding it was special to have the bishop there.
"He's the shepherd of the diocese and he was able to come. In his homily, he did say we should all be together and growing in our prayer life," Father Calik said.