October 29, 2017
Prayer service commemorates 500th anniversary of Reformation
REGIONAL
Story and photos by Stephen Kiltonic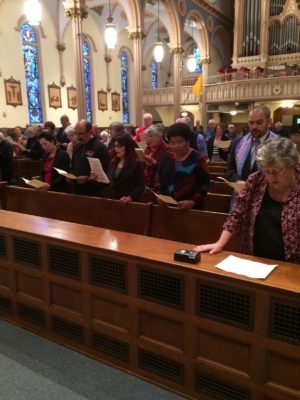 SPRINGFIELD – On Sunday, Oct. 29, at 2 p.m. Catholics, Lutherans and members of the interfaith community gathered at St. Michael's Cathedral in Springfield for a prayer service to commemorate the 500th anniversary of the Reformation.
Springfield Bishop Mitchell T. Rozanski and Rev. Lauren Holm, pastor of Bethesda Lutheran Church in Springfield, led the group in song and prayer. The event included prayer petitions read by Rev. Jason Seymour of the Unitarian Universalist Congregation; Nina Dini of the Baha'i faith; Dr. Mohammad Bajwa of the Islamic Society of Western Massachusetts; and Rev. Ryushin Nick Karapasas of the Buddhist faith. They also joined for a shared hand blessing and accompanying prayer. The service concluded with the singing of "Let There Be Peace on Earth."
After the service, all participants were invited to the Bishop Marshall Center for some light refreshments and to prepare meals for the homeless. The meal packages were destined for those people recovering from the recent hurricane devastation in Texas, Florida and Puerto Rico.
The Protestant Reformation began in Germany on Oct. 31, 1517, when Martin Luther, a Catholic Augustinian monk and university professor, posted his "95 Theses" on the door of the Wittenberg Castle Church. He did this to protest Pope Leo X's sale of reprieves from penance, or indulgences, which were used to reconstruct St. Peter's Basilica. Luther was excommunicated in 1521, but used the power of the printing press to spread his ideas to the masses.
The Reformation was a religious, political, intellectual and cultural upheaval that splintered Catholic Europe. By the time it was over, Lutheranism was the state religion throughout much of Germany, Scandinavia and the Baltics.
More recently, Catholics and Lutherans have affirmed the principle that "what unites us is greater than what divides us," and over the past 50 years, various theological dialogues have helped move the two faiths "from conflict to communion."
Bishop Rozanski and Pastor Holm, when discussing how to best commemorate the anniversary, decided to open up the event to the wider community because of shared interests among all faiths.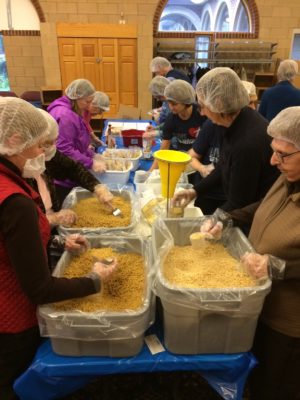 "The problems that we face in society are huge and all the different faith traditions care about the same things – violence, peace, hunger and poverty, about treating all people with dignity and respect, welcoming all peoples," said Pastor Holm.
"So, we thought it just made so much sense to come together as an interfaith community where we could pray together about these same issues and then roll up our sleeves and get to work to do something because these problems are big enough that we need as many partners as we can have," she added.   
In Amherst, a joint prayer service also was held concurrently at Immanuel Lutheran Church. Father Gary Dailey, director of the Newman Catholic Center at UMass and Rev. Steven Wilco, pastor of Immanuel Lutheran, led the gathering.
For a video version of this story, tune into an upcoming edition of "Real to Reel," the Diocese of Springfield's weekly television newsmagazine that airs Saturday evenings at 7 p.m. on WWLP-22 NEWS.