October 28, 2017
OBITUARY: Sister Clare O'Brien, SSJ
REGIONAL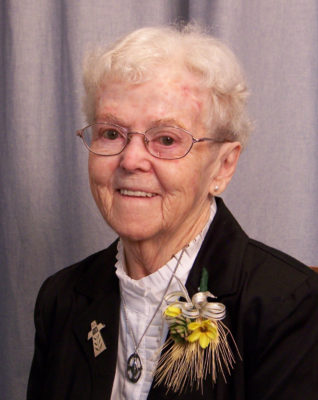 FRAMINGHAM, MASS. — Sister of St. Joseph Clare O'Brien, 92, formerly known as Sister Teresa James, a member of the Sisters of St. Joseph of Springfield, died in Framingham, Mass. on Oct. 27.  Born in Worcester, Mass., she was the daughter of James and Irene (Brigham) O'Brien.
She entered the Sisters of St. Joseph of Springfield from St. Stephen Parish, Worcester in 1944.  She graduated from St. Stephen High School, Worcester and earned a bachelor of arts degree from the College of Our Lady of the Elms, Chicopee.
She ministered in the Diocese of Springfield as a teacher at Immaculate Conception School, West Springfield, Our Lady of the Sacred Heart and Holy Family schools, Springfield; in the Diocese of Worcester at St. Joseph, West Brookfield, St. Louis, Webster, St. Joseph, Leicester  and Worcester Central Catholic Schools. She retired in 1996.
In addition to her sisters in community, she is survived by her brother, Joseph and several generations of loving nieces and nephews. She was preceded in death by her parents, her brothers, Paul, James, John, Donald and Robert, and her sisters, Mary Thompson, Joanne Dacey and Margaret Bolduc.
All services will take place in St. Joseph Chapel at Mont Marie in Holyoke on Tuesday, Oct. 31. She will be waked from 9:30 a.m. to 10:30 a.m. with a prayer service at 10 a.m. The Liturgy of Christian Burial will follow at 11 a.m. Burial will be in Mont Marie Cemetery.
Memorial contributions may be made to the Sisters of St. Joseph, 577 Carew St., Springfield, MA 01104.