October 28, 2017
Deacons honored for their service at special Mass
REGIONAL
Story and photos by David Martin
SOUTH HADLEY- Deacons of the Springfield Diocese said they are grateful for the opportunity to serve others who are in need. The diocese in turn offered its gratitude to those who serve in the diaconate ministry during the annual Deacon Appreciation Mass held on Friday, Oct. 27 at St. Theresa of Lisieux Parish in South Hadley. 
Approximately 100 people attended the 5 p.m. Mass that was concelebrated by Springfield Bishop Mitchell T. Rozanski and Father Michael Twohig, pastor of St. Theresa. Music for the liturgy was provided by the band Diakonotes.
Deacon Donald Philip, who serves at both Immaculate Conception Parish in Indian Orchard and Our Lady of the Rosary Parish in Springfield, said that deacons appreciate the privilege and trust given to them to perform their ministry. He said he and his fellow deacons are grateful for their wives and families, as well the bishop, pastors and superiors who allow them to serve.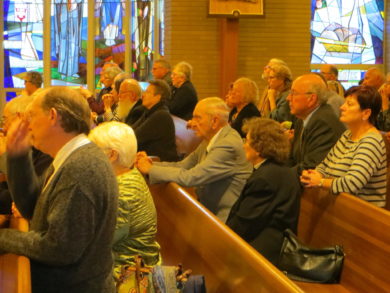 "In that gratitude, I suggest recommitment to listening to the spirit, to the church, to our spiritual directors and to our spouses who know us best and to reflection on living out the servant," said Deacon Philip.
Following the Mass, a dinner and ceremony of recognition took place in the Father Cyril J. Burns Parish Hall, where Bishop Rozanski posed for photos with deacon classes and their wives celebrating anniversaries, such as the class of 2007. The 10th anniversary class included Gary and Diana Doane; Rob and Deanna Grondin; Mark and Elizabeth Kolasainski; John and Donna Leary; and Ed and Linda Shaw.
Bishop Rozanski said the deacons play a vital role in parish ministries throughout the diocese in so many different ways. He said this event is an opportunity to thank them and their wives for all they do.
"It is a wonderful way to be able to have some fraternity, to get together and to encourage one another in our ministries," said Bishop Rozanski.
This year, two deacons were given awards as they chose to retire. Deacon Fred Pelletier was unable to attend, but Deacon Terrence O'Connell was honored for his nearly 30 years of service in the diaconate ministry. Deacon O'Connell said he was pleased to see so many of his fellow deacons and friends present for this event.
"It was very humbling when our brother Leo Coughlin said that I was chosen to receive an award for my years of ministry.  I feel very, very grateful tonight," said Deacon O'Connell.
Bishop Rozanski said he hopes the diaconate ministry will continue to grow in the diocese. He said there are many different roles that deacons are now performing, which involves them taking on more responsibilities.
For a video version of this story, tune into an upcoming edition of "Real to Reel" the Diocese of Springfield's weekly television newsmagazine that airs Saturday evenings at 7 on WWLP-22 NEWS