September 24, 2017
Annual Catholic Scouting retreat held at Camp Holy Cross
REGIONAL
Story and photos by John Thornton
GOSHEN – On a sunny Saturday morning at Camp Holy Cross in Goshen, a young girl climbed quickly up the side of a rock wall. She and many other teens had come for the 62nd annual Scouting retreat Sept. 22-24, sponsored by the Diocese of Springfield. The retreat was open to Boy Scouts, Girl Scouts, Venture Crew or American Heritage from across the diocese.
Isabela Ferraro, a 17-year-old high school senior and Girl Scout told iObserve the theme of this year's Scouting retreat.
"This weekend the theme is spread the word," said Ferraro. "So it's all about how we can take what we learn from this weekend about God and our faith and share it with the rest of the community. "
Ferraro went on to describe the day's events. "So we just made cards for veterans and made sandwiches for the sandwich ministry," explained Ferraro.
"We also had a climbing wall. Later on we'll have a soccer game. We've also had several talks so far. One was about vocations, so that people can develop and notice what God may be calling them to do in their lives. Also, we talked about how we can spread the word, because you hear the phrase 'Spread the Word,' but more like examples that they can really apply to their lives."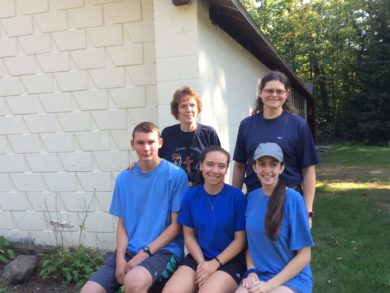 After lunch, among other activities, the Scouts were offered a course on chaplain training inside the camp's chapel. The role of a chaplain within a  troop is to encourage spiritual awareness and growth in the lives of the troop members.
Greg Williams, Scoutmaster of Troop 303 in South Hadley, is a former Cub Scoutmaster who became interested in being an adult leader when his son joined the Scouts. He described the responsibilities of a Chaplain in a boy Scout troop to iObserve.
"I know in our troop we have a chaplain. We try to empower that young man and his peers to put together sometimes small opportunities for reflection, sometimes larger, so when we're on a campout, to take some time and sing some songs, share some scripture and prayer and reflect on where we are," said Williams.
"Other times it's just breaking down what happened — what went well, what didn't go well, what he wants to change in the future to fix things or what he wants to keep doing that went really well," Williams added.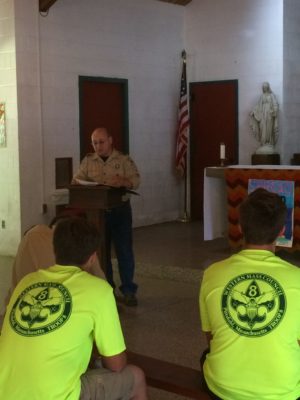 Williams went on to describe how spirituality and religion play a role in Scouting.
 "I think in some way Scouts find it difficult to be reverent in their Scouting activities at first," explained Williams. "But when they really have an opportunity to just stop and think that bringing their faith and being reverent is something they do every day with how they interact with each other and just taking some time to appreciate what's around them and to share that with others. So, this weekend gives them that focus to explore their faith in Scouting and they can take that into the activities that they do the rest of the year."
The Scouts enjoyed a beautiful weekend full of spiritual exploration and plans are already underway for next year's retreat.
A special segment on the Scouting retreat will be featured on an upcoming edition of "Real to Reel," the Springfield Diocese's newsmagazine program that airs Saturday evenings on WWLP-22NEWS.