September 20, 2017
Our Lady's Child Care Center celebrates 10th anniversary
REGIONAL
Story and photos by David Martin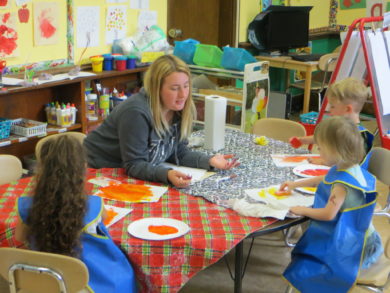 EASTHAMPTON – Teachers, aides and directors, along with students, parents and friends, commemorated the 10th anniversary of Our Lady's Child Care Center, here, with a special celebration on Sunday, Sept. 10.
The Our Lady of the Valley Child Care Center is a mission of the Our Lady of the Valley Parish in Easthampton. Nearly 25 families and most of the child care center staff attended the anniversary picnic on Sept. 10 at the center's Franklin St. campus and pavilion.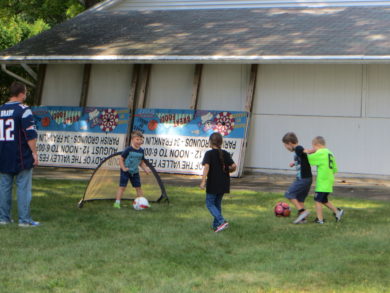 Perri Taylor, director of Our Lady's Child Care Center, said it has become her whole life and was emotional when reflecting back on the decade since she co-created the center. She said this was a tough day because the two people she started the program with, Father Thomas Champigny, then pastor of the Notre Dame Du Bon Consell Parish, and his secretary, Susan Plourd, have since passed away. Taylor said she is proud of the child care center staff, including Jamie Joaquin, assistant director.
Joaquin began two and half years ago as a teacher and has moved up to the assistant director position, which requires further education, and now attends Bay Path University full-time. Joaquin said, with tears in her eyes, that she owes much of her upward mobility to the support of Taylor.
"Perri has really pushed me to move forward in my career because she knows I can do it. She has been a really positive influence and that is why I went back to school because of her, "said Joaquin.
The child care center was established when the Notre Dame/Immaculate Conception Grammar School had very low enrollment and the parish was looking to do something else with the building. Taylor, who said the secretary there knew she wanted to start a child care center, was interviewed and so the center was opened in September of 2007 with two preschoolers and one teacher.  
By July 2009, the child care center began to grow with two pre-school classrooms in operation with 22 students and three teachers. An infant/toddler care building had been built to provide care for the younger members of the pre-school group. In 2012, the fifth anniversary of Our Lady's Child Care Center offered care to 96 children and employed 16 to 20 teachers and aides. One of them is Nikki Beebe, who is now the preschool lead teacher.
Beebe has worked at the center for eight years. She said all the teachers are always available to offer compassionate care to the children, meeting their needs as a group or individuals whether it is changing infant's diapers or encouraging a preschooler to play with other friends. Beebe said if a child is having a bad day, the teachers understand the importance of giving this individual more attention. She feels the child care center is a great benefit to the parish.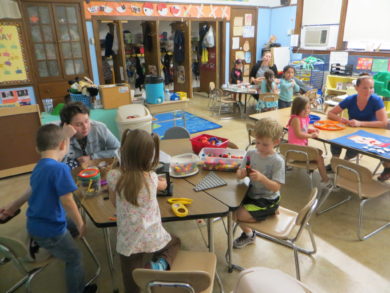 "It is a great place for the children to go so that we can teach them that we are (part of) the church, and we do a lot for Christmas time," said Beebe.
Beebe said that organizing the anniversary event was a big project and included securing the place and time, creating raffle baskets, making a sign-up sheet available for the pot luck dinner, and creating an obstacle course for the children.
One youngster who enjoyed the obstacle course, making bubbles and kicking soccer goals, was 6-year-old Thalia Morales-Rodriguez. She is part of the after school program at the center. Thalia, who is in first grade, also enjoys her time at the center. She said she has visited Lupa Zoo and a water park and she likes activities such as coloring and building Legos.
"We have some fun together and are nice to our friends when having free-play and snacks," said Thalia.
Taylor said she started before school and after school programs when the Easthampton Public Schools approached her, saying they have many grade school kids who have nowhere else to go during these times of day. Joaquin praised for these programs and explained that her own children were part of them even before she worked there. She said the teachers in the before and after school programs are "phenomenal" because they sincerely care and are really there for the children. She said they do many fun things that not a lot of other programs do.
"You know you have done a good job when kids are saying, 'No, Mom, go away. I do not want go home yet' and we get that a lot," said Taylor.
In 2017 Our Lady's Child Care Center serves nearly 120 children and employs 25 teachers. 
For a video version of this story, tune into an upcoming edition of "Real to Reel," the Diocese of Springfield's weekly television newsmagazine that airs Saturday evenings  at 7 on WWLP-22 NEWS.