September 20, 2017
Local Maronite priest shares 'light' of poetry in blog entry
REGIONAL
Staff report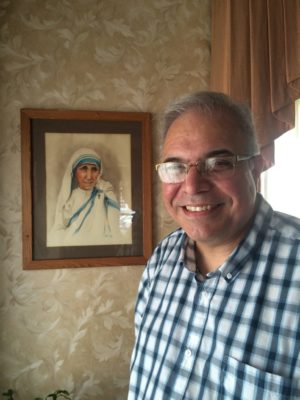 SPRINGFIELD – Father Paul Mooradd, a Maronite rite priest living in the Diocese of Springfield, has a lot of creativity. 
He began painting as a teen and has numerous works of art on display in his home.
A 1975 graduate of the former Cathedral High School in Springfield, Father Mooradd graduated from Boston College in 1979. He was ordained to the priesthood in 1984 and has served in Maronite rite parishes in Missouri, Pennsylvania, New York, Connecticut and Massachusetts.
He also is a children's author and has written four books: Mooses and Gooses, Rounds of Sounds, A Treat to Eat, and Blue but Same as You. The books are available through Mascot Books.
Father Mooradd also writes poetry and offered to share some of his writings through the diocesan blog.
"God has given it to me and I put it out there," he told iObserve.
"If the work resonates, fine! If not, fine. You can't put your light under a bushel barrel," he said.
He said he has been writing poetry for about 20 years, mostly sonnets.
His poetry can be viewed on the blog for the Diocese of Springfield: wmasscatholicvoices.wordpress.com.