September 18, 2017
Thousands crowd the Big E on opening weekend; bishop celebrates Mass
REGIONAL
Story and photos by Carolee McGrath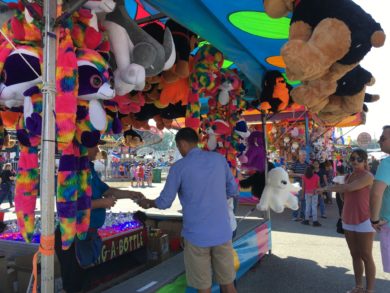 WEST SPRINGFIELD – It was hot and packed on the opening weekend of the Big E in West Springfield, as thousands flocked to the New England fair for the food, rides, animals, music, shopping and more.
The 101st Eastern States Exposition kicked off Friday, Sept. 15 and runs through Sunday, Oct. 1.
"We come here yearly if we can. We missed it the last couple of years, but we're back. There's no rain, the sun is out. It's beautiful," said Lisa Overlock, who traveled about an hour from Naugatuck, Conn.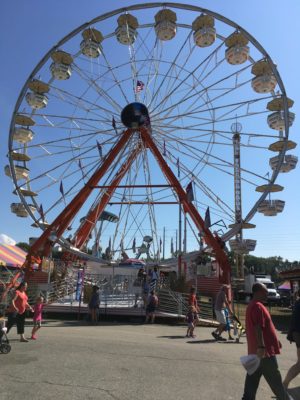 Springfield Bishop Mitchell T. Rozanski celebrated Mass on the Court of Honor for a live broadcast of "Chalice of Salvation," which aired at 10 a.m. on WWLP, Sunday, Sept 17. Sunday was also Storrowton Day at the Big E.
"We're having a great time," said Shion Walsh, who drove out from Newton, Mass., with her husband and two young children.
"This is our fourth year. The kids love it. The food, the rides, we love it," Walsh said.
Last year, more than 1.4 million people attended the Big E, which attracts big name entertainers, like country music's Cole Swindell, who played Saturday, Sept. 16. Some of Swindell's hits include "You Should Be Here" and "Middle of a Memory."
Christian music's King and Country performed Sunday evening, Sept 17.
The fair, which began as an agricultural trade show, has become one of the biggest fairs in the country, and represents all six New England states. It has become known for the food, including fried Oreos. Piche Concessions, a family owned company based in Ware, was busy Sunday afternoon, frying up the treats.
"What we do is dip it in funnel cake batter. It's a sweet batter. Then we throw it in the fryalator for a few minutes and voila – tasty, creamy Oreos," said Matt, one of the cooks in the booth.
In front of the main stage, many people did a double take as they passed by Stu Gordon, a Danny DeVito impersonator, and Mike Walter, who impersonates the late Don Rickles.
"We're having a wonderful time, absolutely great. This is my first year here and I'm having the time of my life," said Walter, who flew in from Seattle for the 17-day fair. Both he and Gordon travel the country for similar events.
"It's great to be at the Big E. This place is awesome. They are great people to work for and great people come to the Big E," said Gordon.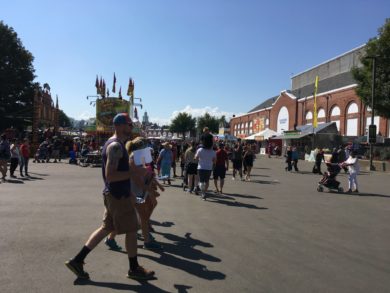 Fairgoers could shop for just about everything as vendors set up in the state buildings and throughout the grounds. Massachusetts Citizens for Life (MCFL) has a display inside the Better Living Center to give people information about their pro-life work. On display are baby models and ultrasound pictures.
"People here have come from New York, Maine and Connecticut, far and wide to thank us," said Alysse Teixeira, a volunteer for MCfl. The 29-year-old belongs to St. Elizabeth Parish in Ludlow. She said even though most people go the fair for fun and to escape life's serious issues, she has had a lot of positive response from people walking by.
"Pregnant women come up to us and people who are adopted. This mother and daughter came up to the booth and the daughter said, 'thank you mom for not aborting me.' It touched my heart," said Teixeira, of the unexpected emotional encounter.
The Big E runs through Oct.1. More information about ticket prices and upcoming concerts can be found at thebige.com.
A video version of this story will air on an upcoming edition of "Real to Reel" which airs Saturday evenings at 7 p.m. on WWLP TV22.