September 11, 2017
Bishop Rozanski participates in Sept. 11 remembrance ceremony
REGIONAL
Story and photos by Sharon Roulier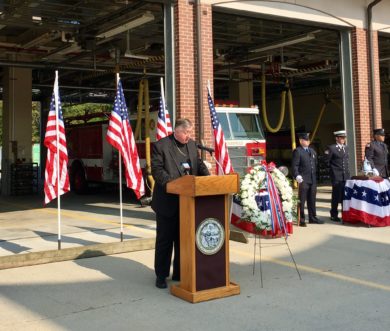 SPRINGFIELD – Springfield Bishop Mitchell T. Rozanski joined with more than 40 law enforcement personnel, local officials and members of the community this morning to mark the 16th anniversary of the Sept. 11, 2001 terrorist attacks.
The bishop offered a prayer for peace and against hate beginning the September 11 Remembrance Ceremony that was held at the Raymond Sullivan Safety Complex on Carew Street in Springfield.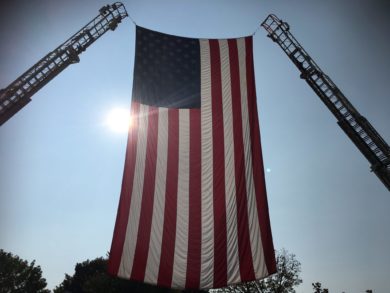 "As a church we believe in the communion of saints, and that we're united with all of those who have gone before us. And certainly, really in a very poignant way today,  we are united with all of those victims of September 11, 2001, and those who have died in our military in the war that has followed that," said Bishop Rozanski in an interview with iObserve. "And also too in being a source of hope and of comfort for the relatives of those who have died. The church needs to be present in all of those situations. It's very important that we remember, that we pray and that we continue to ask God for true justice and peace in our world. "
Although 16 years have passed, those attending the event said it is important to recall the sacrifices made by first responders, police and fire personnel.
"We remember those true heroes and support their families," said Springfield Fire Commissioner Joseph Conant.
As a result of the terrorist attacks, the deadliest in U.S. history, 2,996 people were killed and more than 6,000 others wounded. Of those killed, 343 firefighters and 71 law enforcement officers died in the World Trade Center and on the ground in New York City, one law enforcement officer died when United Airlines Flight 93 crashed into a field near Shanksville, Pa., and 55 military personnel died at the Pentagon in Arlington County, Va.
Remembering sacrifices is part of the foundation of the 2,000-year-old Catholic faith, according to Father Gary M. Dailey, chaplain of the Springfield Fire Department.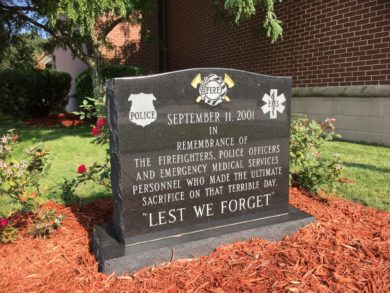 "We never want to forget what we're about and what we've come from," said Father Dailey in an interview with iObserve. "It helps us to remember that we need to continue to work towards peace. We need to continue to work towards justice. And so ceremonies like this just help us to embrace that, and to be truly Catholic and American at the same time."
The ceremony featured a moving rendition of "The Star Spangled Banner" sung by Vanessa Ford;  a rifle volley;  and a wreath laying at the 9/11 monument by Springfield Police Commissioner John Barbieri, Col. James Suhr, commander, 104th Fighter Wing, Barnes Air National Guard Base, American Medical Response Operations Manager Patrick Leonardo, and Commissioner Conant.