August 5, 2017
Holy Hour for Vocations held at Mary Mother of Hope Parish
REGIONAL
Story and photos by Carolee McGrath
SPRINGFIELD – On the feast day of St. John Vianney, the patron saint of priests, more than 80 people prayed before Jesus in the Blessed Sacrament at Mary Mother of Hope Parish in Springfield.
The fourth annual Holy Hour for Vocations was held Friday evening, Aug. 4 at 7 p.m. to encourage people to pray for men and women considering serving the church as a priest or religious brother or sister.
"Adoration is tremendously important to foster vocations because in adoration we go to the Master of the Harvest. Jesus says, 'The harvest is abundant but the laborers are few,'" said Father Matthew Alcombright, pastor of Mary, Mother of Hope Parish.
"Jesus, truly present in the Eucharist, is the Master of Harvest. He has formed the hearts of young men and women to answer a call to a religious vocation and so we go to him and ask that more laborers may answer the call for service. We go to him, truly alive, and ask him to inspire the hearts of our young people to be brave and answer the call he makes," he explained, referring to the true presence of Jesus in the Eucharist.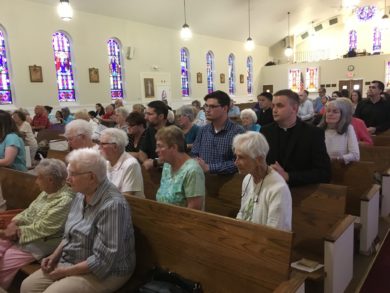 Father Alcombright, who also is the director of the Office of Ministry With the Deaf for the Diocese of Springfield, was ordained a priest in 2012 when he was 27. As a young priest, he can identify with 20-somethings trying to figure out their lives.
"I think young people are reluctant because answering a call to a religious vocation in the church is so radical. It is very counter cultural. And yet, our young people seem to have a drive today to be radical and different," he said. "So, in one way it makes sense why people would be so reluctant. But in another way it makes sense as to why they would respond to a vocation. If young people are looking to be different and radical, then a life of service in the church as a priest or religious makes complete sense."
Twenty-two-year-old Corinne Murphy, a member of St. Cecilia Parish in Wilbraham, attended the Holy Hour with her grandmother.
"I've been discerning a vocation, so I want to support others as well who are discerning," said Murphy, who will be leaving on a missionary trip with Life Teen in September.
"I realize how much prayer people who are considering a call need. So when I saw there was a Holy Hour, there's really no better way to pray then to go before the Eucharist," she said.
Newly ordained Father Barrent Pease, the associate pastor of St. Thomas the Apostle Parish in West Springfield, was the guest homilist. Father Pease, ordained to the priesthood in June, served at Mary Mother of Hope Parish as a deacon while he was in the seminary.
"Adoration is important to foster vocations because God is the one who gives the church children their vocations. Therefore, in eucharistic adoration we literally go to God, the Second Person of the Trinity, Jesus Christ, and beg Him to grant us more priests and religious brothers and sisters," said Father Barrent. 
According to a 2016 study conducted by the Center for Applied Research in the Apostolate, a research center affiliated with Georgetown University, there are about 37,000 priests in the United States. Currently, there are 17 men in priestly formation for the Diocese of Springfield. Several of them attended the Holy Hour, along with Father Gary M. Dailey, director of vocations for the Diocese of Springfield.
Father Alcombright said drawing attention to the need for priests is important and prayer is powerful.
"I am a happy priest. I may not always have the best day, but I end each one of them truly happy for the life that God has called me to. I also remember fondly the happy priests and religious that I have met and continue to meet along the way that remind me of the true joy in serving the Lord," said Father Alcombright.
At the end of the service, people were invited to venerate a relic of St. John Vianney.
Watch for a video version of this story on an upcoming edition of "Real to Reel," the Diocese of Springfield's weekly TV news magazine that airs Saturday evenings at 7 on WWLP-22News.