August 4, 2017
Elms College hosts graduation ceremony for New North Citizens' Council preschool
REGIONAL
Staff report
CHICOPEE – The College of Our Lady of the Elms, here, hosted a graduation ceremony today for 15 members of the preschool class at New North Citizens' Council (NNCC) of Springfield.
The ceremony began with an address from Elms College president Harry E. Dumay, who welcomed the graduates to the college. Dumay started his presidency last month, so Friday's ceremony was technically the first graduation he has overseen at Elms.
"You might be wondering what a college president is doing at a preschool graduation," he said. "Well, some say a college is like a small town, and the president is like the mayor. And mayors greet important members of the community, and you all are important members of the community, so that's what I'm doing here."
"It's inspiring to see the partnership and integration of Elms College with the community," he added. "A college works best when it does not work in isolation, but is a part of the community."
Maureen Holland, director of the Elms social work program, said she wouldn't have it any other way.
"My goal, since I've come to this college, is to open the doors to the community, and this is one way that we do it," Holland said. "Last year, when we hosted New North's graduation, I found that many of the families live very close to this campus but had never been here before. And they were happy to be here, and there were mothers and great-grandmothers, and they were very happy the college opened the doors to them."
For 40 years, New North has conducted community development and advocacy, and offered human services to Springfield's North End neighborhood. Holland herself was a social worker at New North for 25 years, managing child welfare and paternal-child health, and overseeing the daycare at a management level. She knows firsthand the importance of the work NNCC does in the community.
"The agency is about 2.3 miles from Elms, so there's always been a relationship between Elms College and New North Citizens' Council," Holland said. "We have social work students who have done field placements there. We're teaching our students about their communities and how to become part of leadership — one of the core outcomes for our college is civic engagement.
"This is almost like a laboratory, and it's the neighborhood teaching the students. It's not 'We're doing a favor for them' – it's them coming to show us 'This is how you organize, this is how you do an agency, and this is how you involve people.'"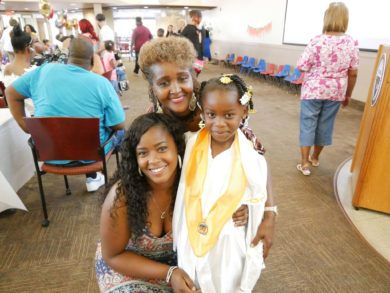 New North has a total of eight classrooms, and three of those serve preschool students. "There's just one class that graduates," said Johanys Gomez, childcare director at New North. "Those are the ones who have aged up to go to kindergarten. The other classrooms are ages 2.9 to 4. They'll go next year."
In the fall, the preschoolers who graduated today will go off to kindergarten in their hometowns of Springfield, Chicopee, and Westfield, Gomez said.
"As graduation gets closer, we tell them, 'Oh, it's going to be at Elms – it's a college, a bigger school. We have to go through elementary school, middle school, high school, and then college,' so they're very excited," Gomez said.