July 16, 2017
Our Lady of Mt. Carmel holds procession in honor of parish patroness
REGIONAL
Story and photos by Carolee McGrath
SPRINGFIELD – There wasn't an empty seat at Our Lady of Mt. Carmel Church in Springfield at the 10:30 a.m. Mass on Sunday, July 16. Springfield Bishop Mitchell T. Rozanski was the principal celebrant for the Mass, which fell on the feast day of Our Lady of Mt. Carmel, the patroness of the parish.
"Indeed what a joy it is to be here with you today to celebrate the 110th anniversary of your parish and to give thanks to God for the wonderful history of this parish," Bishop Rozanski told the congregation during his homily.
Our Lady of Mt. Carmel Parish on William Street is home to Italian-Americans  in Springfield's South End. The church, built by Italian immigrants, opened in 1907 and currently serves 900 families.
In 2007, during the church's centennial year, parishioners raised $1.7 million to renovate inside the church building. The parish is now building a brand new parish center.
"The new building going up next door is a physical sign of the spiritual health of the parish," Bishop Rozanski continued. "As we give thanks to God, we ask God to help to give us a future vision of being apostles and witnesses for the Lord."
The Mt. Carmel Society placed the statue of Our Lady of Mt. Carmel in front of the altar before Mass, and accompanied the statue during a procession following Mass down Main Street in Springfield. The Mt. Carmel Society band also played music as people followed.
"She is our patron saint. Not only did this group of Italian men build the church, but they built Symphony Hall, the library, they did all the masonry," said Rose Costa, speaking of the first wave of Italian immigrants who came to Springfield. Costa is a lifelong member of Our Lady of Mt. Carmel. She said the Blessed Mother has always been an example of how to love Jesus.
"She tells us to listen to her son. She tells us to give her son all our worries. She listened to him. We have to listen to him," Costa continued.
"We can go to Jesus directly or we can go to his mother and say please intercede for me to your son, and she always does."
Among those in attendance for the celebration was Springfield Mayor Domenic Sarno, who is also a parishioner. Our Lady of Mt. Carmel is the patroness of the Carmelite order, the first of whom were Christians living in the Holy Land on Mt. Carmel during the 12th century.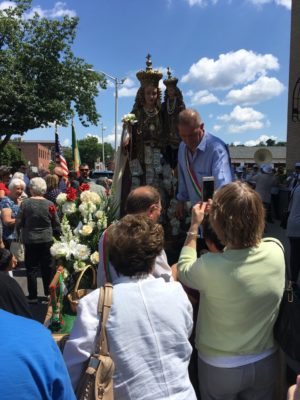 "This is part of their tradition that they brought with them when they came from Italy. Every year, they celebrate in a sort of grand style, the feast day," said Stigmatine Father Robert White, pastor of Our Lady of Mt. Carmel. Bishop Rozanski said the devotion to the Blessed Mother brings people close to her son.
"As Mary's representation comes in so many ways, we come here today, we ask her to watch over us, the mother of Jesus, given to us by him as our mother, so she may sustain us and draw us closer to her son," he said.