July 13, 2017
St. Mary Parish community garden bears fruit and faith
REGIONAL
Story and photos by David Martin
WESTFIELD- Father Frank J. Lawlor, the pastor at St. Mary Parish in Westfield, admits he doesn't exactly have a green thumb. But he has the will and the support of parishioners to make sure their community garden flourishes this summer.
"The joy that people have of showing up at the end of their day and they are back there pulling weeds and planting; they are having a good time so it is really a nice environment to be in," said Father Lawlor.
The garden, behind St. Mary's rectory on Bartlett Street, was created by Father Lawlor's predecessor, Father Brian McGrath, who worked for almost 10 years in building it up. When he left a year ago, Father Christopher Fedoryshyn took over. This year, the gardening responsibilities were put in the lap of Father Lawlor.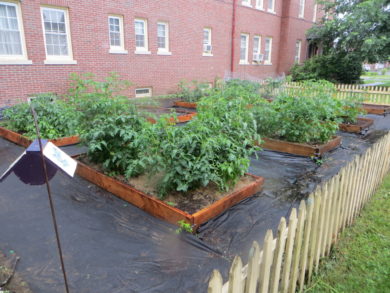 He said the ground has very fertile soil from the garden of the past, so the maintenance staff simply created separate beds and put numbers on them. Then the church opened it up as a community garden to members of the parish who didn't have the space or ability to grow their own garden. Father Lawlor said he placed a notice in the parish bulletin and the response was so overwhelming that a waiting list had to be created.
"We are trying to make people feel comfortable at this parish for all kinds of reasons, whether that is for gardening or for meetings or whatever it is and just make them comfortable with the whole concept of church and community. Those are the two things that this enhances I think," said Father Lawlor.
Father Lawlor said some gardeners began planting in early May and were able to decide whether to grow flowers, or fruits and vegetables. The only criteria is at the end of the harvest season, gardeners are asked to donate some of the produce to the church's St. Vincent de Paul Society for their food pantry. Father Lawlor said parishioners stock the shelves for the pantry with non-perishables. Fresh fruits and vegetables are a rare treat.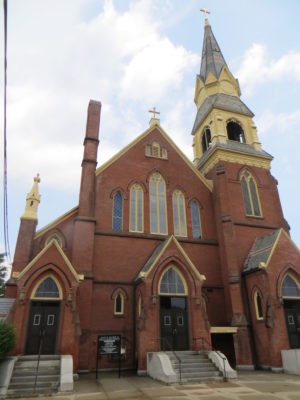 "I am constantly amazed at the need, first of all. But the willingness of people to step in and meet that need, it is really encouraging for everybody," he added.
With a little sunshine, rain and love, parishioners are growing far more than vegetables behind St. Mary Church.
For a video version of this story, tune into an upcoming edition of "Real to Reel" the Diocese of Springfield's weekly television newsmagazine that airs Saturday evenings at 7 on WWLP-22 NEWS.