July 9, 2017
Church renovations draw people to the beauty of God's love
REGIONAL
Story and photos by Carolee McGrath
EASTHAMPTON – On a picture-perfect summer morning, parishioners walked into Our Lady of the Valley Parish in Easthampton for the 11 a.m. Mass, Sunday, July 9. Once inside the church, it's hard not to gaze up at the ceiling, which has a fresh coat of blue paint and restored portraits of the saints, or at the grand white columns and the altar, adorned with angels. Springfield Bishop Mitchell T. Rozanski was the principal celebrant of the Mass of Thanksgiving, with Father Douglas McGonagle, pastor of Our Lady of the Valley Parish and Father John Gawienowski, parochial vicar, concelebrating. Bishop Rozanski said the new renovations and the beauty of the church are a "foretaste of heaven."
Over the last six years, parishioners raised close to $190,000 for the renovations, which included the massive interior paint job, restoring the Stations of the Cross, a new altar and new lighting.
"As we see the beauty of the church, it's a foretaste of heaven. And the care we put into the brick, mortar and plaster is a reflection of God and our longing for the presence of God," Bishop Rozanski told IObserve after Mass.
The last phase of the project, which included the painting, decorative stenciling, and the restoration of the portraits of the saints on the ceiling, began after the Epiphany in January and was completed by the fifth Sunday of Lent. During that time, Mass was held downstairs in the parish hall.
"The whole idea of painting came from a parishioner when we merged. We are one of the combined parishes. At least two-thirds of my parish sees this as the other guy's church. By painting and bringing this place alive again they can claim it," said FatherMcGonagle. The parish was created from the merger of three Easthampton churches in 2010: Sacred Heart, Notre Dame du Bon Conseil, and Immaculate Conception, where Our Lady of the Valley parishioners now worship.
Last October, Bishop Rozanski consecrated the new altar in the church, which was constructed from material from the three former parishes.
"There's still a lot of hurt. People may say, 'I'm still grieving the loss of my old church, but I'm setting roots down in this new one.' And that was the idea of this parishioner," Father McGonagle added.
During the Mass, he thanked the contractors who completed the challenging project: Triple G Scaffold Services; VK Restorations; Vincent Romeo Painting and Whiteley Electric.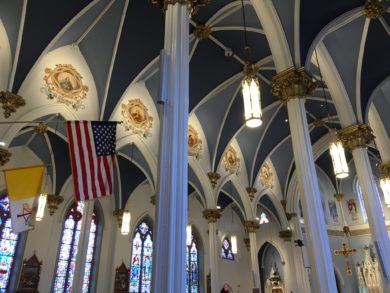 "It's 45 feet to the highest point in the ceiling. When they put in the scaffolding, they built a whole second floor with plywood to get to the nooks and crannies of the ceiling. The electricians, the painters the scaffolding people – it's dangerous work," he explained.
The renovations so far have added up to about $150,000, leaving some money left over to do more renovations to the church, built in 1871.
"We have more money coming in and money left, so the next thing we'd like to do is tile in the sanctuary," said Father McGonagle, who has a background in engineering.
He said the renovation project has brought people together.
"It's created an Our Lady of the Valley identity and it's helping people heal."