July 6, 2017
Local Knights of Columbus council helps organize patriotic rosary
REGIONAL
Story and photos by Carolee McGrath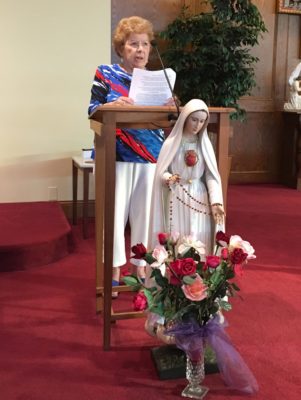 FEEDING HILLS – More than 50 people gathered at Sacred Heart Parish in the Feeding Hills section of Agawam to offer prayers for the conversion of the United States on Wednesday, July 5 at 6:30 p.m.
The Knights of Columbus John F. Kennedy Council 5585 helped organize the fifth annual event, held each summer close to the July 4 holiday when the nation celebrates Independence Day.
"We pray for all 50 states, the governors, Congress, and the president. Our country definitely needs prayer. We are at a crossroads," said Jack Seaver, the grand knight of Council 5585. Seaver also is a member of the Fourth Degree Archbishop Williams Assembly, a subgroup of the international Catholic fraternal service organization in which members pledge to practice patriotism.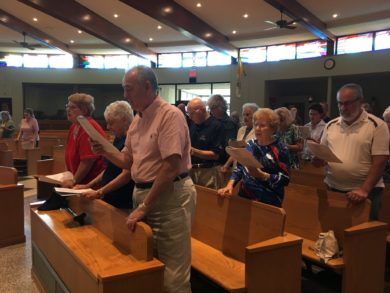 Seaver, who led some of the prayers, said the rosary is a powerful weapon against the devil.
"Mary is the queen. Her job is to intercede on the behalf of the foreigners and the Gentiles, and that's us. She's our patron saint. I pray the rosary at least once a day," he said.
The Caritas community in Alabama wrote the prayers for the patriotic rosary, which include petitions for each branch of government and for governors and state and municipal offices. A Hail Mary was dedicated for each of the 50 states. Before each mystery, an excerpt was read from writings of the founding fathers and other leaders in America's history, all of them referencing God. In between the mysteries, participants sang patriotic songs including "God Bless America."
"We do it to offer prayer for our country, especially post election there's a lot of unrest. Our country needs a lot of prayer. It was founded by God," said Deb Briancesco, one of the pastoral ministers at Sacred Heart Parish.
"When we pray for everyone in every state, we pray that they come back to Christ, that there's conversion. As people start to see more light than dark, their hearts start to change," she added.
Briancesco said the patriotic rosary is a nice lead up to the Faith on Fire Rally planned for Aug. 17-18 at Sacred Heart Parish.
"There you see conversion. I've seen so many people come back to Christ. This rosary is a piece of that," she explained.
The patriotic rosary followed the Fortnight for Freedom, in which the United States Conference of Catholic Bishops asked for prayers for religious freedom from June 21, the vigil of the feast day of St. John Fisher and St. Thomas Moore, through July 4.
Another patriotic rosary is planned for October and will be held at St. John the Evangelist Parish in Agawam.
Refreshments were served following the July 5 service in the parish hall.