July 3, 2017
Newly ordained Salesian priest celebrates first Mass at his home parish in Springfield
REGIONAL
Story and photos by Carolee McGrath
SPRINGFIELD – Surrounded by family, friends, and the community of St. Paul the Apostle Parish in Springfield, newly ordained Salesian Father Paul Phuoc Trong Chu celebrated his first Mass, a Mass of Thanksgiving at 11 a.m. Sunday, July 2, in the church he grew up in.
The 34-year-old entered the international religious order of the Salesians of Don Bosco in Orange, N.J. in August of 2007. After 10 years in priestly formation, Father Chu was ordained on Saturday, June 24 at Our Lady of Perpetual Help Parish in Pelham, N.Y.
"I prayed for vocations for years," Father Chu told iObserve after Sunday's Mass. "I was discerning in high school and in college."
Father Chu came from Vietnam as a refugee with his family in 1992, when he was 9 years old. He grew up attending Holy Name Parish in Springfield before moving to St. Paul the Apostle Parish on Dwight Street, a multicultural church, which serves the Vietnamese Catholic community in the diocese.
Father Chu attended Springfield High School of Science and Technology and the University of Massachusetts in Amherst, where he double majored in computer science and mathematics. He has two younger sisters who are married. He said his parents always kept the family close to Christ, despite the hardships they faced. He said his father, who passed away several years ago, was an officer in the South Vietnamese army.
"He had a strong devotion to Mary. He was a prisoner of war, but it was his faith, his prayers, and the rosary that kept him sane. He imparted that on our family," explained Father Chu.
Father Chu said after he graduated from college, he traveled back to Vietnam with his family. He said that trip changed his life.
"I came back to Vietnam thinking I was going to start a business," said the former software engineer. "God had other plans for me."
Father Chu, who also is devoted to the Blessed Mother, said he visited the shrine of Our Lady of La Vang in central Vietnam where many believe the Blessed Mother appeared to persecuted Christians in 1798.
"I prayed for vocations. Eight days later, Mary answered my prayer because I met a Salesian priest at my mother's home parish in central Vietnam. I said, 'If I was going to become a priest, I was going to become this kind of priest,'" Father Chu explained. A year later, he entered the Salesian consecrated life.
The Salesians of Don Bosco are part of an international community of religious, brothers and priests, founded by St. John Bosco, an Italian priest in the 19th century. Their mission is to help poor and at risk children.
"Our goal is to help youth to become good Christians and good citizens, to encourage the devotion to the Eucharist, adoration and confession," said Father Chu.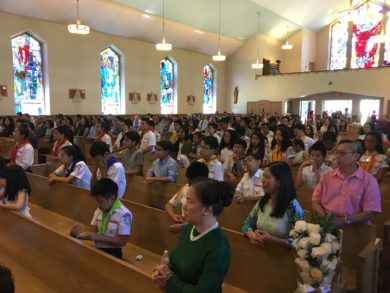 At St. Paul the Apostle Parish, Father Chu is somewhat of a celebrity among the youth. He was one of the founding members of the youth group named Savio, a chapter of the Vietnamese Eucharistic Youth Movement in the United States. Today there are more than 130 children, teenagers, and young adults involved in Savio. At the end of Mass, they crowded him on the altar to congratulate him.
"They are living the faith joyfully," he said. "They experience the joy of being in love with Jesus."
Father Chu's mother, Son Pham, was overjoyed.
"Today is his first Mass. I want to say thank you to all the people who prayed for us. I can't say thank you to God enough," said Son Pham.
"I don't feel worthy to be the mother of a priest. The blessings God has given me, I can't say thank you enough," she added.
Father Chu has been assigned to the Salesian Parish of St. Benedict in Toronto for the summer. In the fall, he will be the coordinator of youth ministry at Don Bosco Prep High School in Ramsey, N.J.
A reception was held following the Mass in the parish center.