June 29, 2017
Bishop Rozanski visits Bible camp at Longmeadow parish
REGIONAL
Article and photos by Julie Beaulieu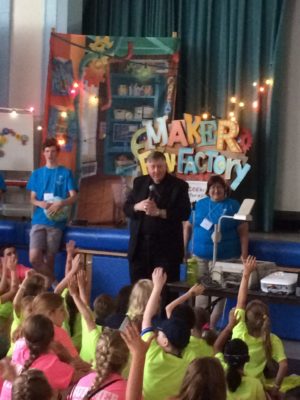 LONGMEADOW – "Bishop Mitch! Bishop Mitch!" cheered 100 campers and 190 volunteers when Springfield Bishop Mitchell T. Rozanski visited St. Mary Parish's Vacation Bible Camp, here, on June 28.
Bishop Rozanski rallied the campers when he called their groups by color: "I see there's different color T-shirts. All of the greens, raise your hand. Are there yellow? There you are! Pink, raise your hand. I see some orange. Blue. Where's the blue? And, purple? Great. So, is everybody having fun?"
The campers and volunteers cheered excitedly for each response, waving signs and banners that they had made. Campers also had prepared Monday and Tuesday morning to sing for the bishop, "I've Been Made By God, Built For a Purpose."
"It was fun. It was fun singing the song, and he was nice," said camper Brendan Muldrig, a 9-year-old parishioner at St. Mary Parish, who has been coming to Vacation Bible Camp the last three summers.
"It's fun. You get to learn about God and go down the water slides," said Brendan.
Water slides and bounce houses are only one of seven stations campers visit during the day at the annual camp.
Celeste Labbe, director of Vacation Bible Camp and director of faith formation for St. Mary Parish, said that the campers also participate in Bible discovery, an imagination station, a Bible-themed video, sports, music, and snack time. They open and close the day with prayer and reflection.
"Today's theme is, 'God is Always With You.' Our focus for the camp this year is that we are built and created by God," said Labbe. "So everyday there is a different theme that teaches the kids what God has done for them, and where God is in their lives."
"I'm just so proud that we can show the bishop the excitement that happens here for one week at St. Mary's," added Labbe.
Father C. J. Waitekus, pastor of St. Mary Parish since November 2015, said he is very impressed by the Vacation Bible Camp, which has going on for the last 20 years.
"I was blown away by the number of campers, but even more so, by the number of young, teenage volunteers who give a week of their time. Some of the older one volunteers for confirmation hours, but it's also a-right-of-passage for the campers as they grow up," said Father Waitekus.
Bishop Rozanski closed his visit with a special blessing.
St. Mary's Vacation Bible Camp, for children entering kindergarten through grade six, is held each year during the last week in June. For more information, call 413-567-3124 or go to stmarylong.org.
For information on other Bible camps and summer activities for children, see the calendar listings on iobserve.org.