June 26, 2017
Knights of Columbus Home City Council 63 celebrates 125th Anniversary
REGIONAL
Story and photos by David Martin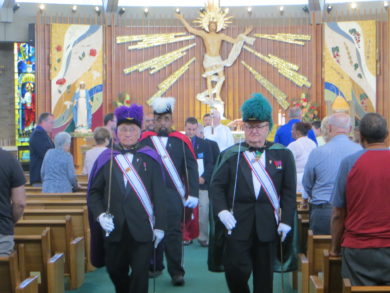 SPRINGFIELD – Members of Springfield Knights of Columbus Home City Council 63 said they are proud and humbled to be representatives from the second oldest council in the state as they celebrated their 125th anniversary during a Sunday morning Mass. 
More than 100 people attended the 10:30 a.m. Mass on June 25 at St. Anthony Maronite Catholic Church in Springfield. Father George Zina, pastor of St. Anthony's, said in his homily that this was a blessed and joyful day to celebrate the council's anniversary.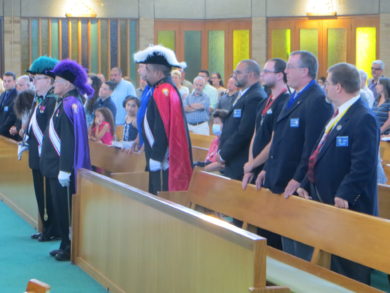 "Today we give thanks to God for the service and success you have accomplished for the Catholic Church and the people. No matter what their nationality, what their religion is, the Knights of Columbus always, no matter the situation, are ready to help and give. This is the joy of life," said Father Zina.
Father Zina said when giving to others it is done from the heart which "has been taught by and the joy shared through the Lord God." During the Mass, it was announced that current Council 63 Grand Knight Randy Bianchi would be moving on from leadership so he was presented with a Past Grand Knight ribbon. Also in honor of his five years of service, Father Zina awarded Bianchi with a plaque from his brother knights. 
Bianchi, who thanked his fellow knights, said it was an honor to serve. He told iObserve that he had no idea he would be awarded for his years of service, which he said was a pleasure, and he felt humbled and honored to be recognized by his brother knights. Bianchi said he would now become a trustee, who is an advisor for a period of three years to the incoming grand knight, who will be Louis Diaz.
"I consider myself a Catholic father, husband and gentleman, and just living out my faith in the Knights of Columbus is a way to do that," Bianchi said. "For Catholic men it's a way to plug in and live out that faith."
Bianchi said the Knights of Columbus are a group of Catholic gentleman in communion with the pope who are providing the charitable works that the Gospel calls them to live out. He said his grandfather was a past member of Council 63 which is the main council for western Massachusetts and from which all the other local councils were formed. He said the Home City Council has had several locations over the years, but always in Springfield, and is one of various Knights of Columbus councils in the city.
Victor Sanchez, who will become advocate of Council 63 on July 1, said the Mass was a very emotional and inspirational experience for him and he was grateful that Father Zina congratulated the Knights of Columbus for their success.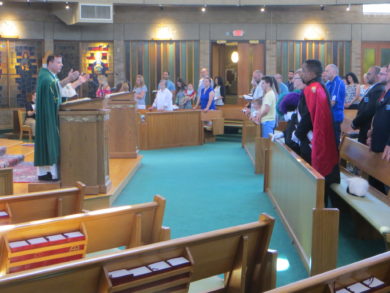 "To welcome us here the way Father George did, it means a lot. We gained a new friend and a new home and he has been heaven sent ever since," said Sanchez.
Sanchez said he wishes for great things as Home City Council 63 moves into the future. He said he is excited to see what the next year will bring and hopes the best is yet to come.
Following the Mass, a reception was held in the adjoining Cedars Hall, where parishioners, knights and their families could socialize and enjoy breakfast treats and traditional Lebanese cuisine.
For a video version of this story, tune into an upcoming edition of "Real to Reel" the Diocese of Springfield's weekly television newsmagazine that airs Saturday evenings  at 7 on WWLP-22 NEWS.