June 25, 2017
New leadership team to guide Sisters of St. Joseph
REGIONAL
Story and photos by Carolee McGrath
HOLYOKE – Friends and family gathered at St. Joseph Chapel at Mont Marie in Holyoke to support the Sisters of St. Joseph congregation Sunday, June 25 at a special ceremony called the Transfer of Leadership.
The members of the new leadership team are Sister Joan Ryzewicz, president; Sister Angela Deady, vice president; Sister Shirley Anne Campbell and Sister Patricia Smith, leadership team members. They will replace Sister Maxyne Schneider, past president; Sister Elizabeth Sullivan, vice president; and Sisters Carol Hebert, Virginia Maitland and Lillian Reilly.
"We are grateful for the leadership of the five women who have led us the last six years," said Sister of St. Joseph Patty Hottin in her welcoming remarks about the outgoing leadership team.
In April, the congregation elected the new team during the Chapter of Election meeting, which is held every few years. The new leadership team has three goals: nurturing the evolution of the community of the Sisters of St. Joseph, working to act against racism, and protecting the Earth and all creation.
New president Sister Ryzewicz grew up in Springfield. She served as the program director at Providence Place Retirement Community. She celebrated her jubilee with the Sisters of St. Joseph last October.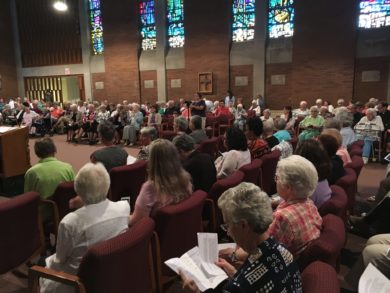 "We understand that being called to leadership is a call to service," Sister Ryzewicz said to those gathered. She also thanked the outgoing team for their service.
"You are such a blessing. In the days ahead we hope you realize the depths of our gratitude for your service of the last six years," she said.
Sister Deady, a native of Chicopee, will serve as vice president of the congregation. Sister Deady taught at Holyoke Catholic High School before becoming pastoral minister at All Saints Parish in Ware.
Leadership team member Sister Campbell, who is from Montreal, Canada, most recently was a case manager at Baystate Noble Hospital in Westfield.
Sister Smith, who is from West Springfield, taught at Cathedral High School and ministered in Africa for 42 years. She recently ministered at Genesis Retreat Center.
"It's an honor but an awesome responsibility as well. If we really understand leadership in the Christian way, it really is a call to service," Sister Ryzewicz told iObserve after the ceremony.
Sister Schneider, who served as president since 2011, said the ceremony was special for the entire community.
"They are so ready. They have the backing of the congregation. Each of them brings a whole skill set and different personalities. Each of them is strong, but together they are a wonderful team," said Sister Schneider.
A reception was held following the ceremony in the dining room at Mont Marie.
The Sisters of St. Joseph has 199 members in the congregation. The new leadership team will serve until June of 2022.
A video version of this story will be featured on an upcoming edition of "Real to Reel," the Diocese of Springfield's weekly television news magazine, which airs Saturday evenings at 7 on WWLP-22 NEWS.