June 19, 2017
UPDATED: St. Mary High School baseball claims its first state championship
REGIONAL
Story and photos by Stephen Kiltonic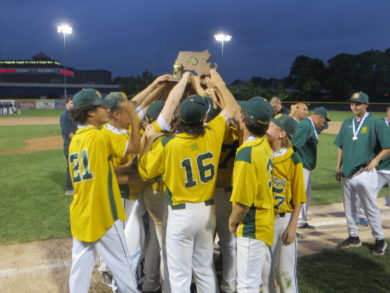 WORCESTER, Mass. – St. Mary High School has been playing baseball since 1923. During those 94 years, the Saints had some great teams and many outstanding players. They've even won the western Mass. title three times, the last in 2009. But, no Saints team has won a state championship.
Until this past Saturday. 
On a hot and humid night at Holy Cross College's Fitton Field, St. Mary wrote their name into the history books with a heart-stopping 5-3 win against Archbishop Williams, capturing the school's first-ever Division IV state championship.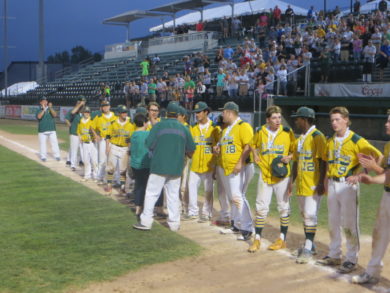 In 1967, the "Impossible Dream" Boston Red Sox won the pennant with names like Yastrzemski, Scott, Lonborg, Andrews, Petrocelli and Smith. Fifty years later, the Saints achieved its own "Impossible Dream" season with players named Bonini, Masciadrelli, Butler, Gezotis and Daley.  Call it implausible, improbable but the team dubbed "The Little Engine That Could" by assistant coach and athletic director Bill Lamirande, defied the odds and skeptics all season long in compiling a 23-2 record and a season-ending 13-game winning streak.
St. Mary has 18 players on the team in a school with an enrollment of only 50 boys. Their Catholic school opponent from Braintree, Mass., Archbishop Williams, has five times the size in boy's enrollment. Many of the Saints' opponents during the season, including Williams, physically towered over the Saints players. 
"That's the beauty of the game. You don't play the game on paper. You don't look at the size of the other team. You just go out there and between the lines, you play it correctly and any team can beat anybody else in baseball," said head coach Troy Collins. "These guys never got too high or too low and they just went on and did their business and it was great. It takes luck sometimes too. Things have to go your way. We're fortunate. This year, everything went our way and we're state champs."
In their five-game run to the title, St. Mary gave up only six runs, beating Granby 3-2 in the state tournament, then shutting out undefeated Tahanto 4-0 in the state semi-final. In four of those games, including the championship game, the Saints committed zero errors. And that has been the hallmark of this team all year, game after game – stellar defense, great pitching and clutch hitting.
In the championship game, St. Mary jumped out to an early 2-0 lead, behind the hitting of a pair of Saints, lead-off batter and shortstop Matt Masciadrelli and centerfielder Jake Butler. Masciadrelli was the spark plug that ignited the offense. He had three hits, including a double, scored three runs, and stole a base. Butler, who brashly predicted the title victory after the Tahanto game, also had three hits and three RBIs.
After St. Mary scored three more runs in the top of the sixth to take a 5-0 lead it looked like the Saints had it locked up. Up until the sixth, senior John Daley scattered six hits with no walks and was cruising on a shutout. But the eastern state champs did not go down without a fight. They strung together several hits and narrowed the gap to 5-3. Nate Bonini, the Saints other starting pitcher who also plays third base, came on in relief. With two outs, a runner on third and the tying run at the plate, he ended the threat with a strikeout.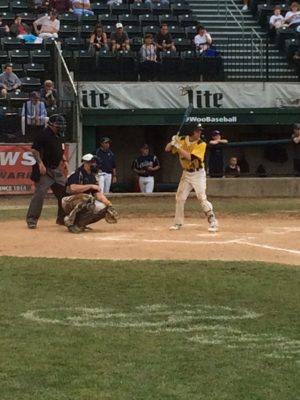 In the final inning, Bonini shut down the Bishops one, two, three with the last batter striking out.  The players stormed the field and the team collapsed on home plate as the St. Mary fans celebrated with their cow bells. During the medal and trophy presentation, the Westfield contingent started singing "When the Saints Come Marching In." 
Many of the starters, mostly seniors and juniors, have played baseball with each other since the eighth grade and even earlier in Little League. Three are two sets of brothers on the team: the Masciadrellis, junior Matt and freshman Jack, and the Boninis, junior Nate and eighth-grader Luke. Lamirandes' son, Jack, is a freshman. 
"What helped us really good in the field was that we feel like brothers. I know everything about Bulter (Nate) and he probably knows a lot more about me than he should about me," said senior John Daley. "Because we've known each other so long, it's a brotherhood and we really put on a show for people. There is a first for everything and we just finally won it for the first time for our school."
The team members say camaraderie is special among this group and draws out the best in each player. "I almost always hit better when he's (Daley) is pitching because there's something about him. He tells me to get a hit and I go up there and get a hit for him," said Butler.
"It's just insane. I can't explain it," said Matt Masciadrelli, commenting on the game. This team has handled the pressure well all season. "If we were tense, we were not going to win that baseball game. But, we were all focused and relaxed going into the game," said Masciadrelli.
Daley agreed. "I went in here thinking it was like game one of the season. I didn't really care how important this game was and I just came here and did my job."
Along the way the team has had its superstitions. A fictional player, "Brian," was created by Masciadrelli as a joke to lighten the mood during an early team meeting. "Nobody knows who Brian is. We've been riding Brian straight through to here. When we need something, it's 'One. Two. Three, Brian,'" said assistant coach Sean Pierce. St. Mary kept winning when Brian was mentioned and it stuck. Before the team left the field Saturday, the "Brian" cheer went out.
Also, the Five-Star team bus driver, Jose, became the team's sole driver after St. Mary kept winning – 13 games to be exact. On Saturday, Jose drove.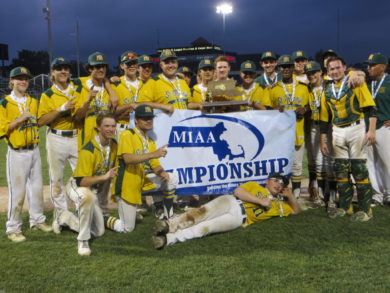 On the Saturday morning of the game, Collins attended another momentous event – his son Anthony's wedding in Connecticut. The game was actually pushed back from noon to accommodate the wedding, courtesy of tournament officials.  
Collins said recently he lost a close dear friend, Kevin Halloran, nicknamed "The Bear."
"I'm convinced that The Bear watched over us through the whole thing. When we need a little bump, he was able to get it for us," said Collins.
After the game, all the players, coaches, parents and fans gathered in right field hugging and just savoring the moment a little bit longer. "You couldn't write a better script. It's mind-boggling. We're just very, very happy for the kids. They deserve this more than you would ever know. What they've done is something they can tell their grandkids. It's amazing," said Pierce.
Collins put the whole historic 2017 season and final game in perspective. "This is for all the St. Mary's guys that have come before us, that nobody believed we could do it. We're just little, old St. Mary's. Well, we're state champs today," added Collins.
For a video version of this story, tune in to the June 24 edition of "Real to Reel," the Diocese of Springfield's weekly TV news magazine that airs Saturday evenings at 7pm on WWLP-22News.