June 18, 2017
Three local women join the Secular Franciscan Order
REGIONAL
Story and photos by John Thornton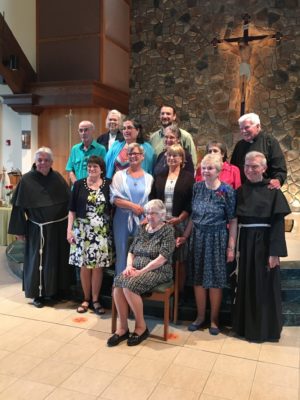 BELCHERTOWN – On a cloudy, hazy and dreary Saturday morning, the hall of St. Francis of Assisi Parish on Jabish Street in Belchertown was anything but.
The parish rang out with singing, laughter and applause, as three women became members of the Secular Franciscan Order of St. Francis, Saturday, June 17.
Beautiful music greeted Conventual Franciscan Father James McCurry, a 47-year member of the Franciscan Friars. The Springfield native was the celebrant for the morning's Mass. He traveled from Baltimore, Md., specifically for the day's event.
"I am the minister provincial of Our Lady of the Angels Province of our Franciscan Friars Conventual," Father McCurry said. "My province stretches from Ottawa, Ontario all the way down the east coast of United States to Florida, skips down to Costa Rica with dependent missions in Brazil and crosses the sea to Scotland, England and Ireland."
Near the end of the Mass, Patricia Skaza, Amy Moran and Indira Kris rose and approached the altar for the profession of vows. The three women professed vows of poverty, chastity and obedience and became lifelong members of the Secular Franciscan Order.
The Secular Franciscan Order was one of three orders formed by St. Francis of Assisi 800 years ago. It is composed of both men and women who are lay people. The other two orders are the First Order, for professed men or Franciscan friars, and the Second Order for cloistered nuns.
In order for people to discover if they are called by God to the Franciscan way of life, the Secular Franciscan Order has ongoing formation programs. There is a three-month program, so people can learn more about the order.
Those who show genuine interest, enter a six-month program where they are referred to as novices. The novices study the past history of the order and receive special instruction on the Franciscan qualities and obligations of spirituality and service to the world.
At the end of the novice program, candidates enter an 18-month period of discernment, after which they are permitted to make a public commitment of their life to God as a full member of the lay family of St. Francis.
"The person of Francis of Assisi is attractive to everybody," explained Father McCurry. "He's attractive because he showed us a way of living the Gospel simply and effectively. And his love for all humanity, especially the poor, showed no differentiation of ages, races or backgrounds. So there is a universality about St. Francis of Assisi and in practice what that means is somebody wants to follow his good example of Gospel living."
A reception was held following the event at the parish hall.