June 18, 2017
Sister Mary Benilda Nadolski, Westfield native, celebrates diamond jubilee
REGIONAL
Staff report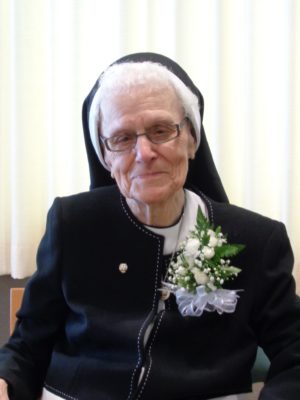 HAMBURG, N.Y. – Sister Benilda Nadolski, a Franciscan Sister of St. Joseph (FSSJ) and native of Westfield, celebrated her 75th (diamond) jubilee of religious profession on May 28 at a Mass and dinner with her sisters in community, FSSJ associates, family members, and friends at Immaculate Conception Convent in Hamburg, where she presently resides.  
Sister Nadolski ministered for most of her 75 years in education as a teacher in Mater Dolorosa School, Holyoke, and elementary schools located in Milwaukee, Wis., Buffalo and Rochester, N.Y., and Lawrence, Mass. She taught at St. Hedwig High School in Detroit, Mich., and Immaculata Academy in Hamburg, where she was also an assistant principal.
She also served as principal of Sacred Heart School in Danbury, Conn., where her leadership efforts were recognized with the Principal of the Month Award and the Elizabeth Ann Seton Award.
Following her ministry in Danbury, Sister Nadolski resided at St. Stanislaus Convent in Chicopee, where she assumed various volunteer roles in the school, religious education program, and parish activities. 
Sister Nadolski is known for her gratitude and zest for life, her prayerful concern and care for others, and her dedication to the words of Mother Colette Hilbert, FSSJ foundress: "In all things, charity!"