June 4, 2017
Fundraising concert to be held at Jericho featuring Dan Kane singers
REGIONAL
Story by Julie Beaulieu
HOLYOKE- The Bureau for Exceptional Children and Adults at Jericho will be hosting its first fundraising concert featuring Sophie Lawry and the Dan Kane singers on Sunday, June 11 at 1 p.m.
Sister of St. Joseph Joan Magnani said that this fundraiser for Jericho will help to raise money so that, "we can continue the services and programs that we provide to people with developmental disabilities as well as autism."
Jericho's programs include family advocacy with the state education system and health care system, as well as social, faith and physical programs, such as swimming and equestrian therapy.
Sophie Lawry, a fourth-grader at St. Mary School in Westfield, will take to the stage to raise awareness for the many programs provided by Jericho.
Dan Lawry, Sophie's father, and a Jericho board member, said that the Lawry family got involved with Jericho when Sophie's grandmother was suffering from advanced-stage multiple sclerosis (M.S.).
"I got involved with Jericho in 2002. We used to come to Mass here in Holyoke with my mother-in-law, Bridget Boyle, who was in a wheelchair. She had M.S. We came to the Mass because it was very friendly, and very easy for her to get in and out," said Dan Lawry.
Ten-year-old Sophie started singing at age 4 when she went to a Dan Kane singing camp. She said that her singing can cheer people up.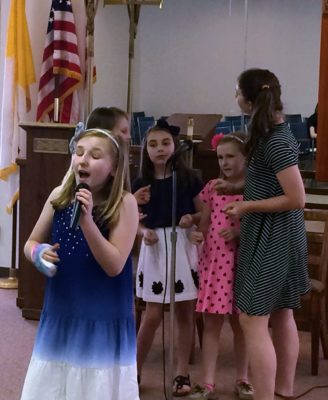 "I did one little gig at a nursing home near Christmas time and there are lots of people in wheelchairs and they can't go home to see their children at Christmas, and so I'm bringing smiles to their faces," she said.
Sister Magnani felt that the concert would be a perfect fit to follow the yearly outdoor Mass.
"For the past three years we've been having an outdoor Mass here at Jericho, because we have an absolutely beautiful area to be outside in — to worship outside and to praise God for all of the beauty that surrounds us here at Jericho," said Sister Magnani.
"But this year it's going to be a little bit different. After Mass we'll have light refreshments and then we'll have Sophie Lawry with Dan Kane and friends put on a concert," added Sister Magnani.
Father Donatus Isohuma, chaplain at Mercy Medical Center, will celebrate this year's Mass starting at 11 a.m.
The concert will be held on the grounds of Jericho, rain or shine, located at 537 Northampton St., Route 5, in Holyoke.
Tickets are $15 each, or four for $40 and may be purchased at the gate or in advance by calling 413-538-7450. For more information, log on to jerichobeca.org