May 14, 2017
Pampering and fun at 'Mom's Night Out' at Jericho
REGIONAL
Story and photos by Carolee McGrath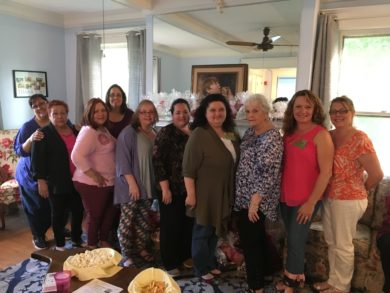 HOLYOKE – Leaving the stresses of family life and work behind them, about 30 mothers met at the Alleluia House on the grounds of Jericho in Holyoke for a Mother's Day gathering, Friday evening, May 12. This was the second annual event for mothers organized by the Bureau for Exceptional Children and Adults at Jericho. Mothers were able to get their hair and nails done. There were also refreshments and gift baskets for each guest.
"We're providing a night for them to relax, be comfortable and share. They're being pampered, just to have them relax and not have to worry about their children," said Sister of St. Joseph Joan Magnani, the executive director.
Founded by the late Father Robert Wagner and Sister Magnani, the non-profit serves parents and families to ensure full inclusion of children and adults with special needs in school, church and the community.
"I have a brother who has a disability who is 65 years old. Years ago, there was no program for him," said Sister Magnani.
The staff at Jericho helps families understand and secure education services for their children; provides religious education and organizes social activities. Mass is held each Sunday in the Father Robert F. Wagner Celebration Center. There are religious shrines on the property, as well as a pool.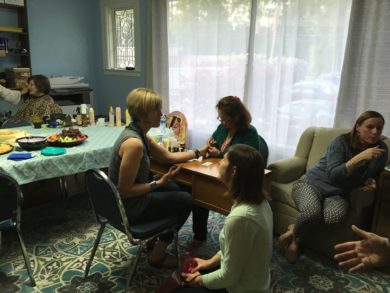 "The big thing they do here, is there's no fee. People can come here because of the generosity of what Father Wagner set up here, that no one should be charged unless they can make a donation," said Linda LaPointe, the director of programs and family support at Jericho. She connected with Jericho after the birth of her daughter Jacqueline, who has Down syndrome.
"She's wonderful. She has a great sense of humor. She loves to make people laugh," said LaPointe. "She's 15 now and controls her whole life of what she's going to wear and how she's going to act. She's 15 and she's boy crazy and has many friends."
She said at Jericho, she's received support from other mothers of children with special needs.
"You'll always be greeted by people who will welcome you and understand what you're going through," she said.
Erin Paul's 21-year-old son Matthew is autistic. Paul has taught religious education at Jericho and serves on the board.
"It's important for every mom to get a night off, but more so for moms with kids with special needs because we don't get to go and get our nails done, or our hair done," said Paul. She attends Jericho each Sunday for Mass, which she said has made a big difference for her family. She said no one turns around to look if a child is making noise or gets up during Mass.
"It's allowed me to relax and take in everything Father is saying during Mass," said Paul.
Jericho also offers services to help families plan for when their children become adults, through a program call the Transition Summit. The non-profit is currently working with more than 70 families in the Diocese of Springfield.
For more information, log on to jerichobeca.org.
A video version of this story will air on an upcoming edition of "Real to Reel," which airs Saturday evenings at 7 p.m. on WWLP TV-22 News.