May 12, 2017
Catholic schools compete in fifth annual Battle of the Books
REGIONAL
Photos and story by Sharon Roulier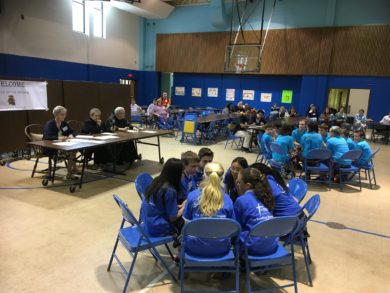 HOLYOKE – It was a page-turner right down to the final question. The fifth annual Diocese of Springfield America's Battle of the Books Competition took place May 9 at Mater Dolorosa School. Thirty-three teams of students, from grades three through eight, representing seven Catholic schools in the diocese, packed the Mater Dolorosa Pope John Paul II Social Center.
It was an event that was seven months in the making, as teams of students spent hours after school reading and discussing novels like: Ralph S. Mouse by Beverly Cleary; Bridge to Terabithia, by Katherine Peterson; and Percy Jackson and the Lightning Thief, by Rick Riordan.
"We said that everyone would read five books, but I ended up reading nineteen out of the twenty," said Rachel Barrows, a sixth-grader from St. Stanislaus Kostka School in Adams. Her team, the Plot Twisters, narrowly defeated the Reading Renegades from St. Mary's Academy in Longmeadow in the fifth and sixth grade level.
Kelly Burns, coach of the Plot Twisters, said she was proud of the team and had always encouraged them to read for detail, not for speed.
"They all worked together and they all had great qualities," said Burns. "They just guided each other along. They're such a wonderful team."
Battle of the Books is a national organization and the list of reading and practice questions are released months in advance. Since October 2016, all teams were given a list of 20 books in their respective grade categories of third-fourth, fifth-sixth and seventh-eighth, along with the sample questions. The students were to read the books and, with the guidance of an adult coach, discuss each book and author to gain as much knowledge about the writings as possible.
"I made flash cards with the author and the title and I just studied them a lot," said Olivia Foard, a fourth-grader from St. Mary's Academy in Longmeadow, whose team, the Reading Rebels, defeated the Spine Crushers from Mater Dolorosa School in the third-fourth grade category.
Surprisingly, Olivia admitted that before this year, she was not a fan of books, reading 10 of the 20 selections on the list.
"I don't really like to read, but I liked this year," she said, with a giggle.
Team Destiny 11/17 from Mater Dolorosa took first place in the seventh-eighth grade category as they narrowly defeated the Olympians from St. John the Baptist School in Ludlow.
Seventh-grader Samantha Antil, a member of Destiny 11/17 said the key to doing well in the competition was lots of preparation.
"We just read the books and then in class we prepared with questions that were kind of similar to the ones that we had in the actual battle," she said.
The questions during the four rounds of competition were asked by student-judges from Pope Francis High School (PFHS), who said they were impressed with the level of knowledge the contestants displayed.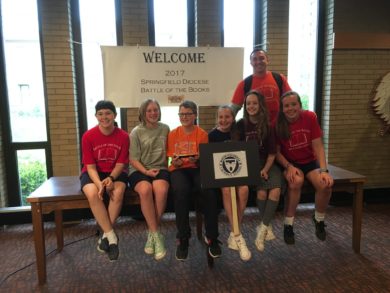 "They really answered some hard questions," said Ethan Pilon, a junior from PFHS. "If I had to answer these questions I don't think I'd do so well."
Another student-judge, Edward Thomas, a junior, said it was obvious that the contestants paid great attention to detail while reading.
"There were some really detailed questions. One I can remember was about a flower and I still can't pronounce the name," said Thomas. "If you didn't read the book and pay attention you wouldn't know the answer."
Although there were three teams that were declared Battle of the Books 2017 champions, every participant was a "winner" in that the competition encouraged literacy.
"The bottom line is it gets kids to read. It gets kids to talk about what they're reading," said Diane Godek, coordinator.
Winning teams for each level were:
Grade 3 & 4 – Saint Mary's Academy Reading Rebels:
Dalilah Wray, Riley McLeod, Jenna Goodwin, Owen O'Neill, Liam Riddell, Delilah Wagner, Catherine Chadwell, and Olivia Foard
Grade 5 & 6 – St. Stanislaus Kostka Plot Twisters:
Jacob Touponce, Rachel Barrows, Christopher Diesz, Keira Lennon, Noah DeBenedetto, Brenna Wojcik, Samara Maxwell, Jonathan Lewis, and Ty Barrett
Grade 7 & 8 – Mater Dolorosa Destiny 11/17:
Samantha Antil, Marley Reardon, Kaily Godek, Julia Cahill, Samantha Robak, Julia Robak, and Keegan Kukucka