May 9, 2017
Hundreds gather at Ludlow parish to learn about Our Lady of Fatima
REGIONAL
Story and photos by Peggy Weber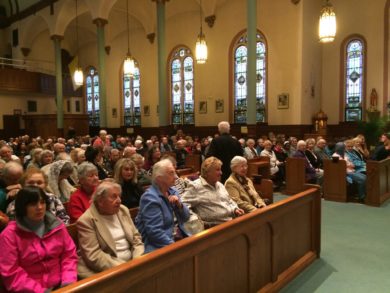 LUDLOW – More than 400 people gathered at St. Elizabeth Parish, here, May 8, to learn more about Our Lady of Fatima and the importance of the 100th anniversary of her apparition in Portugal.
Conventual Franciscan Father James McCurry, minister provincial of Our Lady of the Angels Province, spoke for an hour to a standing-room-only crowd about the message of Fatima and its relevance 100 years later.
He said the period in which the Blessed Mother appeared to three small children in a small village in Portugal has been described as "an explosion of the supernatural."
"The world, in that first two decades of the 20th century, had grown very secular and very atheistic," he said. "There were so many threats in Europe that it's no wonder that God said we need a remedy to all the godlessness."
"And we can see that this message, this remedy, is just as important 100 years later," he said.
Father McCurry, who has visited the shrine in Fatima more than 35 times, provided the background of the three young children, Lucia, Jacinta and Francisco. He also provided the historical context of the apparitions in May, June, July, August, September and October of 1917.
He described the three secrets of Fatima that were revealed to the children.
"With the first, Mary didn't want to frighten them but she wanted to give them a sense of urgency. She showed them how many good people were being corrupted by modern times and the contagion of sin. It is said she gave them a vision of hell," he said.
The second secret, he said, is the remedy to the first. "Mary showed her 'Immaculate Heart' and she said if only people would get close to my heart then that is the way out of the morass and corruption of this world. She offered a vision of great hope. Her heart is a symbol of love," he said.
"The closer we get to his mother, the closer we get to Jesus. This is not pious puffle. This is real, Catholic spirituality," said Father McCurry.
He added that Mary asked the children to pray the rosary every day and wear a scapular.
The third secret was not revealed until many years later. The first two were told in 1917. Francisco died in 1919 and Jacinta in 1920. Lucia became a cloistered nun and lived until 2005.
Father McCurry said that he had been given a scapular from Lucia and that it is at his order's provincial headquarters in Maryland.
St. Pope John Paul II read the secret in 1981 after he had been shot in St. Peter's Square. It had been written down by Sister Lucia and stored in the archives years before, when Pope Pius XII had ordered her to do so, explained Father McCurry.
In 2000, the secret was revealed and it was a prediction of the assassination attempt on "a bishop all in white."
St. Pope John Paul II credits Our Lady of Fatima with preserving his life that day.
But as complex as the messages and miracles may seem, the Fatima message is quite simple, said Father McCurry.
"It is simply to realize that there is hope. Never despair. As long as there are people willing to pray, there is hope for the world," he said.
And he said that if people could only say one prayer each day they should say "Totus Tuus," the motto of St. Pope John Paul II. "It means 'all yours' or 'totally thine' and consecrates oneself to Mary."
"If you wonder how can I let myself be a helpful force for the conversion of the world, then offer and entrust yourself to Mary," he said. "We are saints in the making. And there is no better way of letting God do the making than entrusting ourselves to his mother."  
Michele Witowski, director of religious education for St. Elizabeth Parish, said the parish invited Father McCurry to speak because so many people were asking questions about the Fatima centennial.
"We needed a speaker and we invited Father McCurry and we were blown away that he could come because he is an international figure who travels the world," she said.
She noted that the packed church also was an indication of how many people want to learn more about Our Lady of Fatima and that the evening was important and helpful.
Gary Bourbeau, a parishioner of St. Elizabeth, said he appreciated the talk. "It was a great reminder of how simple our faith can be if we let it and trust our mother."
He added that it was great to "hear someone of Father McCurry's caliber speak on this topic. And it was great to have to this opportunity to give answers to so many people."
Father McCurry will return to Ludlow in July to Our Lady of Fatima Parish.
A video version of this story will be featured on an upcoming edition of "Real to Reel," which airs Saturday evenings at 7 on WWLP-22NEWS.